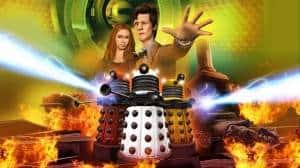 Back in June, the BBC released "City of the Daleks," a new episode of Doctor Who, to UK audiences only. This exclusiveness made sense, but still outraged international fans of the sci-fi series, who wanted a chance to watch the new episode.
Wait, did I say 'watch?' I meant 'play.'
"City of the Daleks" was the first of four announced interactive Doctor Who games that were available only to UK users. The games, which were treated as episodes and had a storyline on par with the show itself, featured the voice acting talents of Matt Smith and Karen Gillan, the stars of the series.
Almost a month later, "Blood of the Cybermen," was released, and both "episodes" of the game remained unavailable to US fans, while UK fans were able to download and enjoy the games for free.
Finally, the time has come for US fans of Who to get their hands on "City of the Daleks" and "Blood of the Cybermen," though unlike the UK fans, they're going to have to pay to do so, according to Digital Spy.
The games, available exclusively though Direct2Drive.com, have been released as a bundle that costs $3.70 for both episodes. The games are only available for PC users, and as in the UK, there will likely be a delay before a version for Macs are available (which means I'm out of luck until that happens).
While I'm certainly happy that the US is finally getting those games, having to pay for them seems a tad unfair (but then again, life isn't fair). The fact that they're not available for Macs here yet (despite the fact that they are in the UK) is another turn-off. After the way these adventure games have been going, the delay between the UK and US broadcasts of the series should seem totally insignificant.
Details and release dates for the third and fourth Adventure Games are currently unannounced.