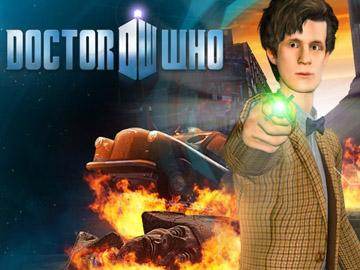 With the advent of Doctor Who's fifth season, we've been seeing a much different Doctor. He's newer, younger, more aggressive, and… more pixellated?
You heard me right, folks. Our Eleventh Doctor (Matt Smith) will soon be taking on a completely new visage. One that's a little less Time Lordian and a little more computer-generated. That's because the Doctor and his companion Amy (Karen Gillan) will be making the leap to video games before the fifth season of the series is over, according to BBC News.
Though the title (Doctor Who: The Adventure Games) is not so creative, the idea certainly is. This game won't be your peripheral, non-canon entry, like LOST: Via Domus. No, they'll be completely canon, according to executive producer Piers Wenger. "There aren't 13 episodes of Doctor Who this year. There are 17 – four of which are interactive."
Wenger is talking about four two-hour interactive episodes that will be released starting in June that will accompany the Doctor and Amy to new journeys not seen within the television program. These games, which will be downloadable for free, are aiming to promote computer literacy amongst viewers of the series who might not even know how to "log on." It's also hoped that it will introduce more people to online gaming as a storytelling medium.
"Establishing new forms of drama is exactly what the BBC should be doing," said BBC executive Simon Nelson. "By aiming these interactive episodes at the broad audience of the TV show – unique in British television, in that it encompasses at least three generations – we're aiming to encourage the family to gather round the PC or Mac in the same way they do the television."
Stars Smith and Gillan have both signed on to voice act in the episodes, along with lending their faces to the game. The Cybermen are the only villains as of yet confirmed to appear.
The project is helmed by videogame creator Charles Cecil, who most recently did work on the video game adaptation of The Da Vinci Code. As Cecil's work is usually point-and-click video games, it's safe to assume that the game will follow this routine, and will be less action-oriented. Then again, the Doctor doesn't really do lots of action, does he? It's all about wit, which makes the point-and-click style much more sensible.
It's not the Wii game we promised you, but it certainly sounds like a lot of fun. What do you think? WIll you be gaming adventurously with the Doctor and Amy?