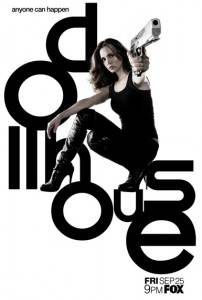 There has been an overwhelming amount of buzz and press the past few weeks over the upcoming season 2 of Dollhouse, and I must say, after only watching a couple of episodes last year, and then being a bit bored with it, I'm as excited as ever to watch this show again. In fact, this might be the first show ever that I've chosen to stop watching, out of dislike for the show, and then gotten fired up to watch it all over again. Hopefully Joss won't disappoint me, and how could he now that Fox has pretty much declared that they'll be leaving him alone during season 2, to make the show that he wants to make (yeah right, I'll believe it when I see it).
Other than the news that Fox will be leaving the show alone this season, we've also learned that there will be some great guest stars this season including Jamie Bamber (in the season premiere), Keith Carradine, and Angel alum Alexis Denisof to name a few. We've also heard alot about the new format the show will be shot in, HD, and how much the feel of the show will change for the viewers. In fact, in a recent interview with Access Hollywood, Eliza Dushku said that the filming format changes makes the show "less science-fictiony." She also desscribed the second season as "racier, darker, and crisper."
We also have some additional spoilers below thanks to Kristin from E! Online.
Paul and Echo Heat Up: According to both Tahmoh Penikett and Eliza Dushku, Echo and Ballard will grow closer this season. As Eliza says, "Echo doesn't know entirely what's going on yet…[but] as she becomes more and more self-aware, she's recognizing this constant, tall, dark, looming man in the Dollhouse." We would have said handsome in lieu of looming, but her point is taken. As Tahmoh explains it, "They have a connection. It's not a physical attraction, but I hope it's something that we explore a lot more this season. You're not quite sure what it is. There's a past, there's a history, there's an understanding between them that's very different. I think the audience is really going to like it and be really curious about where we're going in the first few episodes."

Other Zombie Lovers: Echo isn't the only active who's going to be exploring her nascent feelings for someone else. Enver Gjokaj tells us, "Sierra and Victor are definitely still involved. They're going to explore that relationship more. They explore the Sierra-and-Victor love as dolls, but then also they're going to go into the backstory of both of them." There's no chance that Sierra and Topher were connected before they entered the Dollhouse…is there?

Crazy Comes Early: Enver also promises that season two starts out, well, energetically. He says, "They don't wait. They start right in with some crazy stuff. Tim Minear has crazy stuff in store. And Jed [Whedon] and Maurissa [Tancharoen]'s episodes are out of this world." What kind of crazy can we expect? According to Fran Kranz, "Sexually dark stuff…murder…sex and murder." Works for us.

The New Look: According to Eliza, there's a fresh new look to the series this year: "We're shooting with a different style and shooting HD, and it makes it that much more realistic. That supernatural haze, that science-fiction haze, has been lifted, and it makes it all that much more possible. I was driving down the street the other day and I saw one of the vans they use for the dolls, the sprinters, and the thought crossed my mind…this could be. With the technology today, you just never know."
Dollhouse season two premieres Friday, Sept. 25 at 9 p.m. on Fox.