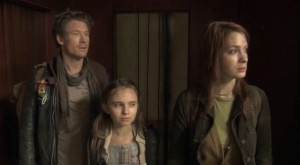 The series finale of Dollhouse has been delayed from January 22nd to January 29th in order to accommodate a telethon to raise relief funds for Haiti. George Clooney is organizing the charity effort, which will be broadcast live on several networks including FOX, ABC, CBS, NBC, CNN, and MTV.
The penultimate episode of Dollhouse, "The Hollow Men," will still be airing tonight at 9 p.m. ET, and then the finale, "Epitaph Two: Return," will air on January 29 at 8 p.m. ET, according to SCI FI Wire. Written by Maurissa Tancharoen, Jed Whedon, and Andrew Chambliss and directed by David Solomon, the episode is a follow-up to the post-apocalyptic episode "Epitaph One" from the Season 1 DVD.
Set in the year 2020, Echo and her surviving Dollhouse crew attempt to restore order to a devastating future world before mankind is eliminated.
Guest stars include Felicia Day, Adair Tishler (as Caroline), Zack Ward, Summer Glau, Alan Tudyk, and Amy Acker.
According to Maureen Ryan of The Chicago Tribune, "The series finale of Dollhouse is wonderful & bittersweet. It does what a Whedon finale does: It will make you miss the show a lot more."
View promo photos for the Dollhouse finale here.