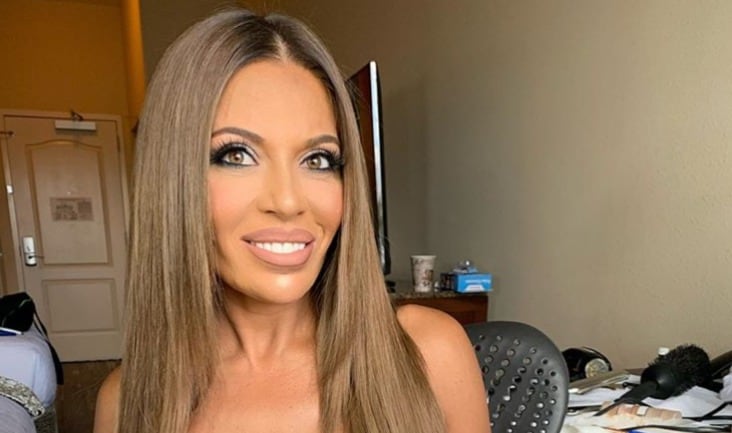 From real estate to 'Real Housewives…',Dolores Cantania has dabbled in a variety of professions in an attempt to find her niche. The socialite is also an entrepreneur when she's not starring on 'The Real Housewives of New Jersey', and co-owns several fitness facilities with former husband, businessman Frank Cantania. She will be the first one to tell you that all other professional endeavors aside, she really does love doing entertainment, which is why she opted to give it a go when the yen struck her .
Today she is able to boast a huge number of fans whose loyalty and devotion have made her a familiar celebrity among Americans, and she couldn't be happier. But if you have never watched 'Housewives' there is a good chance you have never even heard of her, which obviously means you are not one of those fans. With that being said, we figured you could use a crash course, which we have entitled 'Cantania 101′. Well, we did most of the discovery work for you. Below is a list of ten facts about Dolores that you probably didn't know, in no particular order. This should not only sate your desire for knowledge about the actress, but should do a fairly good job of adding you to her fan base. Get comfortable, grab a snack and beverage, and get ready to learn…
1. Birthday and Zodiac Sign
Born on December 28, 1970, Dolores came into the world under the zodiac sign of Capricorn. Capricorn women are full of resourcefulness and wisdom, while possessing a great personal power that allows them to achieve their goals and ambitions. We think these particular traits shine through when it comes to Dolores, and they are reflected in both her career choices and her personal life.
2. Early Life
Cantania was born and raised in Patterson, New Jersey by her father and mother, a policeman and homemaker; she has four siblings. Strong Italian roots gave her a profound appreciation for family and an even stronger appreciation for the marriage commitment. Having her parents as an example really helped to give her the powerful values that she possesses.
3. Job History
The professions listed above are only the beginning for Dolores. After attending college, she first worked as a correctional officer, then went on to become a surgical technician. After that she got into real estate and enjoyed a successful stretch in that field. It was after real estate that Dolores gave show business a go and landed her role in 'Real Housewives', which has proven to be a pivotal decision for her.
4. Charitable Causes
Cantania is involved with the work of a variety of charitable causes, which she supports through donations and volunteering. Including St. Joe's Hospital in Patterson, NJ and the Onyx & Breezy Foundation, which supports the needs of a variety of animals. She also fosters for dogs, an animal she has a particularly strong passion for. She says jokingly that, at home, she has around '5000′ dogs.
5. She is considered by fans to be the most 'relatable' on the show RHONJ…
Now in her second year on 'Real Housewives', Cantania joined the program with a close personal friend, Siggy Flicker. She claims that this year she is coming out of her shell much more than last, and she is much more comfortable. Putting that aside somewhat, fans have said that of all the housewives chronicled, Dolores is definitely the most relatable and approachable, which pleases her to no end. She feels that approachability can be attributed to the way she looked at joining the program. She was careful not to step on any toes, and she didn't dive right into trying to make a name for herself before her time was due.
6. A 'Real Housewife' Spoiler
According to Cantania, Danielle, who is from a previous season, will be returning to make an appearance. She states that the reappearance of Danielle, who is not 'everyone's cup of tea', promises to bring lots of DRAMA, but because she doesn't want to give anything away, Dolores sealed her lips and refused to divulge any further information. Well, guess that little tidbit is enough to gather some slacking viewers.
7. Marriage & Children
While businessman Frank Cantinia is technically her former husband, are divorced, the maintain a very amicable relationship. Not only are they friends, but they have a functional and profitable business relationship, as well. The couple have two children together, Gabrielle (20) and Frankie (17). As for the elder Frank, Dolores is still something of a companion to him, on a more personal level.
8. Net Worth
Thanks to all of her professional ventures, but mostly because of her role on 'Real Housewives', Cantania currently has a net worth of approximately $3.5 million. The money comes from a few of her business ventures, including 'Real Housewives', her fitness centers, and other projects she is involved in. The new gym she is invested in is likely to raise her net worth considerably if it is a success, so that number will probably rise in the days to come.
9. What did she study in college?
Well, knowing the answer to this is difficult if one is guessing on their own due to the variety of professions she has chosen to be in. While corrections was the first field she went into after college, it was not what she majored in. In fact, Dolores studied gambling law while in college, but went into corrections as an afterthought. From the distance Dolores may appear a bit wishy-washy because of her job changes over the years, but I would say that it shows a woman who is determined to find the professional side of herself and knows when she is experiencing dissatisfaction from her career choice. If it's time to move on, then it's time to move on.
10. She is close personal friends with RHONJ's Jacqueline and Teresa
Dolores lists both Jacqueline Launita and Teresa Giudice as close friends of hers, even when the cameras aren't rolling. It is likely that these two friendships are the main reason she fits in so well on the television show, but we like to think that she is versatile and that the camera loves her. With that being said, those two relationships are important to her, which is one of the reasons she always has Teresa's back on the program, in case no one ever noticed.
Well, she may have been an 'unknown' to you when this started, but now you know much more about Dolores Cantania. This up-and-coming star is loving her life and all of her endeavors, both personal and professional, and it is our opinion that she will continue to thrive in the limelight. If you love her follow her on Instagram and see what her day to day life consists of. For now, we're over and out, but we were glad to bring you one of today's hottest reality stars!