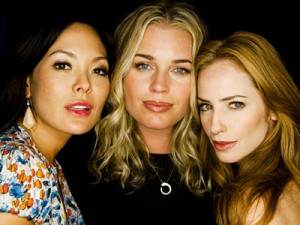 Fans of the show Eastwick are already upset about the cancellation of their show, and I hate to make it worse. Eastwick's executive producer, Maggie Frieman is furious over the cancelation of a show that ABC called a 'quiet success' only a couple of weeks ago, but it appears fans won't get any closure for the series.
The announcement of the cancellation came while they were finishing up the 13th and final episode that ABC has ordered. This means that there was no way to give fans any kind of closure on the series and where it was headed.
'We're smack in the middle of several insanely juicy stories,'Friedman sighs. 'And so we do not get a chance to wrap things up in a bow. Which is killing me.'
Those final episode are expected to be aired on ABC as planned, and Friedman still thinks that fans should tune in, saying "I believe [ABC] is going to air the rest of our run, and I think people should tune in anyway because our best episodes are in there. We were really hitting our stride."
She went on to say that "The magic was getting crazy, the storylines were getting really exciting and sexy and dangerous. I [just] wish we could've given the fans – and ourselves – real closure.'
The remaining episode should be finished before the January run of new shows begin and its still unknown what ABC will put on to close out Wednesday night's popular comedy block. It has been suggested that Ugly Betty may snag this timeslot. But where, then, would Lost find its home?
Source: Ausiello Files