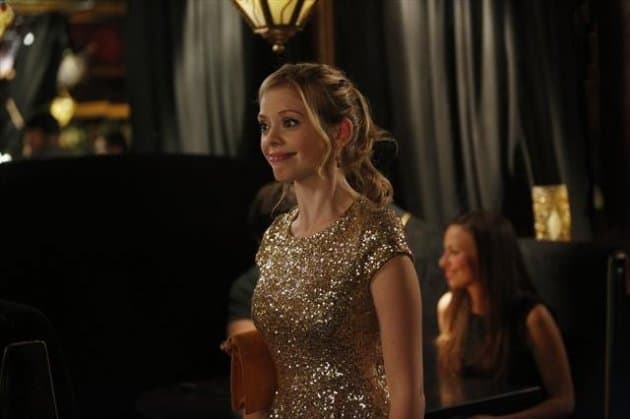 June is heading back to work on Wall Street in an all new episode of Don't Trust the B— in Apartment 23.  ABC moving Apartment 23 and Happy Endings to Sunday night and repeating the same episodes in their usual Tuesday night spots.
In tonight's Apartment 23, June starts her new job and befriends a fellow co-worker named Fox Paris.  While June is convinced that the two of them are friends, Chloe clues her in on the truth: Fox is her nemesis.  It soon becomes clear that Chloe is right, as Paris systematically sabotages June at work.  So June turns to Chloe for help.  After all, who better to take down a devious woman than another devious woman?
Meanwhile, James head to the coffee shop and finds Mark in quite the state.  He's falling for June, but he's not really sure how to express it in her going away card.  James is convinced that his abilities as an actor also gives him insight into writing, so he agrees to coach Mark on how to write the card and perfectly express his feelings for June.
Watch three sneak peeks below for tonight's all new episode of Don't Trust the B— in Apartment 23 airing at 10:30 p.m. ET/PT on ABC.
[FLOWPLAYER=http://www.tvovermind.com/wp-content/uploads/2013/01/ap23-205-2.jpg|http://www.tvovermind.com/wp-content/uploads/2013/01/A23205_fv2.h264HD-Clip1.flv,440,280]
[FLOWPLAYER=http://www.tvovermind.com/wp-content/uploads/2013/01/ap23-205-3.jpg|http://www.tvovermind.com/wp-content/uploads/2013/01/A23205_fv3.h264HD-Clip2.flv,440,280]
[FLOWPLAYER=http://www.tvovermind.com/wp-content/uploads/2013/01/ap23-205-4.jpg|http://www.tvovermind.com/wp-content/uploads/2013/01/A23205_fv4.h264HD-Clip3.flv,440,280]