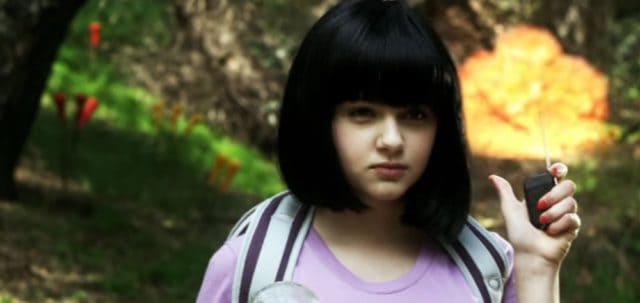 It's been awhile since we've heard anything about the live-action movie adaptation of Dora the Explorer, but from updated news we've heard recently, Michael Bay will apparently not be producing it as previously suggested. Instead, production is going to be led by Platinum Dunes partners Brad Fuller and Andrew Form who brought on writer/director Nick Stroller for developing the script. Stroller is known for writing and directing kid-themed material such as Captain Underpants and The Muppets, as well as raunchier stuff like Neighbors.
Dora the Explorer is being developed via Platinum Dunes the studio division of Paramount Players with James Bobin as director. Bobin is credited for movies such as Muppets Most Wanted and Alice Through the Looking Glass. According to some news, Michael Bay is still somewhat attached to the re-visioned movie, perhaps to give it that CollegeHumor vibe. As the live-action venture will be produced by Platinum Dunes, along with Bay by their side, the cast and/or director hasn't been named as of yet. Bay is reportedly not going to be directing it, as fascinating as that might have made the revision.
The original animated Dora the Explorer was a television series aired on Nickelodeon from 2000 all the way through 2014. The show had eight seasons all together, with 172 aired episodes which followed "Dora", a little Latina girl, who's also bilingual, around on her adventures such as getting to her abuela's house after solving small puzzles or getting through small obstacles, such as a missing plank from a bridge which she must find and then replace, usually with the help of her monkey Boots and her trusty backpack full of useful items.
However, in this movie version, it's been reported that instead of Dora being a seven-year old little girl, she will be a teenage girl moving to the city in order to live with Diego, her cousin. A previous version was developed back in 2015, but it didn't go anywhere. From what we understand, this version of the movie is expected to be released next summer, hitting theaters on August 2, 2019. Dora the Explorer seems to actually be the second title to be released on that date, with Warner Bros already having set as yet untitled event movie to also be released on that same date.
Additionally, Paramount also has three additional movies which are set to be released the summer of 2019 as well. These movies are to include titles such as Transformers 7, set to be released on June 28, a remake of Top Gun, which originally starred Tom Cruise, set to be released on July 12, and a yet to be titled new Terminator movie set for July 28.
What most feel is going to be odd about the movie adaptation is that instead of Dora being the same little girl, she will be played as a teenager instead. This seems odd due to the fact that the series was not only translated worldwide, but it also generated tons of merchandising, such as video games, Legos, and even stage shows, as well as many Dora-like action figures, games, and other like-type merchandise. So why change up a perfectly good scenario? Who knows? We're not sure which target audience they are aiming for here, but it's definitely not the same as the cartoon version.