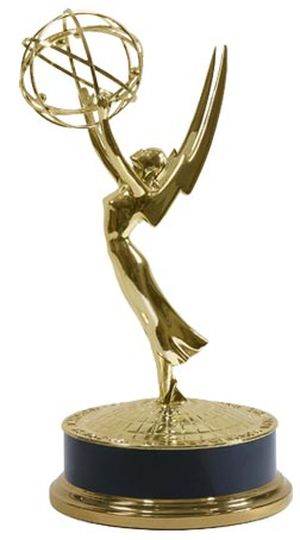 I'm a big fan and follower of the Emmy voting process and so between now and when the awards actually happen, chances are I'll be writing a lot about them. The Emmy nominations will be released in early July. Until then, we're free to speculate as much as we'd like. So for the next week, I'll be posting my Dream Emmy Ballot. These are not official picks of what I think the Emmy voters will do, but more of what I wish they would do.
Let's get things started with the writing categories for both comedy and drama series.
Two things before we get going: First, I'm only choosing performers or writers that are actually on the ballots, so these choices are all real possibilities. Second, in the writing categories, I've decided to give each series an opportunity at only one slot, so these categories won't be dominated by one writer or team like the real nominations will be. I think that's so disappointing and uninteresting as a viewer and fan of the awards. Thus, I won't be doing it.
The comedy writing is obviously tough, especially when it comes to choosing between certain episodes of the best series. I tried to think things over and decide which episode was actually the best-written, because sometimes it is easy to get wrapped up in the performance or direction and overlook how good the actual writing was. At the same time, I'm not ignoring those things either because the execution of good writing is also crucial.
The Office, 'Niagara'(written by Greg Daniels and Mindy Kaling)
Thankfully Emmy awards are not given out based on whole seasons because if that were the case, this great episode would have no chance in hell at even being nominated. However, The Office has been nominated in this category three times in its run, with its one win coming from the Daniels-penned 'Gay Witch Hunt'and 'Niagara'is a high-profile success that had a lot of press hype behind it. As I said in my comments about the best episodes of the television season, this effort nailed the Jim and Pam moments and also included a number of hilarious beats for the Dunder Mifflin crew.
Parks and Recreation, 'Telethon'(written by Amy Poehler)
Though I'd imagine 'The Master Plan'will get the series its nomination because it was buzzed about by the media thanks to the two new cast members and because it was written by the aforementioned Schur, I have a soft spot in my heart for this one. It offers nice moments for everyone on the cast and still serves as a humorous vehicle for Poehler's Leslie Knope.