30 Rock, 'Dealbreakers Talk Show #0001'³ (written by Kay Cannon)
Cannon has never been nominated for her work on the series, so why not give her a nod this go-around? This effort includes that wonderful scene with Liz trying to film opening titles for her talk show and although some of that might be ad-libbed on the set, I'm not exactly sure how the voters would find out. This episode was overwhelmingly praised amid a season or so of negative backlash, and for good reason.
Modern Family, 'Pilot'(written by Steve Levitan and Christopher Lloyd)
This is probably your winner for Writing For a Comedy Series at the 2010 Emmys and I can't really disagree with that. It's wonderfully scripted with loads of funny lines and solid dialogue. Moreover, it sets up the relationships between the family members very well without seeming too contrived or clichéd.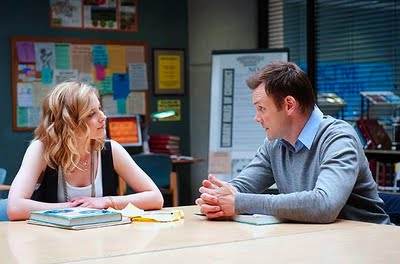 Community, 'Pilot'(written by Dan Harmon)
I wish Community would have submitted more, better episodes but I understand the desire to not split the vote for a series that not a whole lot of people – especially Emmy voters – watch. Thus, they went with the most obvious choice in the pilot and although I don't think it's nowhere near the series'best, I can't not put my favorite new comedy on this list. That's not to say that the pilot of Community isn't funny – because it's hilarious in multiple spots and consistently funny throughout.