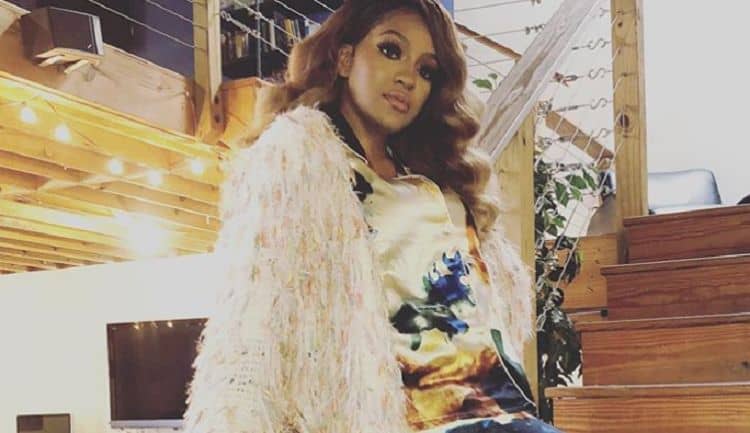 If you're not familiar with the name Drew Sidora now, you're about to be. Drew began her acting career in the mid 90s and and has had small guest appearances and recurring roles in TV shows and films ever since. Many people may recognize Drew from her role as Tionne "T-Boz" Watkins in the TV biopic, CrazySexyCool: The TLC Story. Now, however, Drew is in the process of switching gears as she prepares for her debut season on The Real Housewives of Atlanta. Drew online personality LaToya Ali have been announced as new cast members for the show's upcoming season, and viewers are already excited to see what they will bring to the series. Keep reading for 10 things you didn't know about Drew Sidora.
1. She Got Her First Agent When She Was 7
Drew has always known that she wanted to be an entertainer. From an early age, it was also clear to all of the people around her that she had a natural talent for performing. When she was only 7-years-old, she got her first agent and began to audition for opportunities.
2. She Was In A Sean Paul Video
Film and TV roles aren't the only time Drew has gotten to do her thing in front of the cameras. She also got the chance to experience being in a music video. She was a dancer in the music video for the song "Give It Up To Me" by Sean Paul and Keyshia Cole.
3. She's A Wife And Mother
Drew has devoted lots of time and effort into building a successful career, but she's also been very dedicated to building a nice personal life as well. She has been happily married to Ralph Pittman since 2014 and the couple has three beautiful children together.
4. She's Also Singer
Lots of people in the entertainment industry feel pressure to focus on just one area, but Drew has never let that pressure get to her. She has always loved to sing and act and she has pursued both of these things on a professional level. Her debut album was scheduled for 2016 but was never released. At one point in time she was also signed to Slip-n-Slide Records.
5. She's A Chicago Native
Drew was born and raised in Chicago and she comes from a very close knit family. Her mother is a pastor and her father is a pediatrician. She has one brother and three sisters. Drew has a very close relationship with her family and they have always been supportive of her dreams.
6. She Was In White Chicks
The 2004 film White Chicks is widely considered a modern day classic, and Drew will always be able to say she was a part of the movie. Her character, Shaunice, had a supporting role in the movie and it was Drew's first major film opportunity. In 2004, she also appeared in a handful of episodes of That's So Raven.
7. She Loves Theater
On screen roles have made up the majority of Drew's acting career, but theater is something she's always loved. She said, "I love theater! I think that in theater and film you have to be on your A-game, but in theater it's live so it gives you this adrenaline rush to perform live and I love it!"
8. RHOA Is Her First Reality Show
Even though Drew has lots of experience being on TV, The Real Housewives of Atlanta will mark the first time she's been on a reality show. Hopefully she is prepared for all of the inevitable drama that will come, because the RHOA cast is known to throw shade like nobody's business.
9. She's Loves A Good Adventure
Drew is the type of person who is always up for a good time and she enjoys having new experiences. She may not always get as much free time as she wants, but when she isn't busy with work she likes to spend her time going on adventures with her loved ones.
10. She Believes In The Power Of Team Work
The entertainment industry is known for being a cutthroat atmosphere. Most of the time, people are so busy trying to get ahead of each other that they are willing to do anything to get to the top. Drew, however, believes that it is important for people to help each other. She told Thrive Global, "None of us are able to achieve success without help along the way. If each of us could help just one person achieve their dreams imagine the domino effect that could create. Take one teach one! If we all adopt that mindset imagine the impact that we could have on our entire community and entire world."