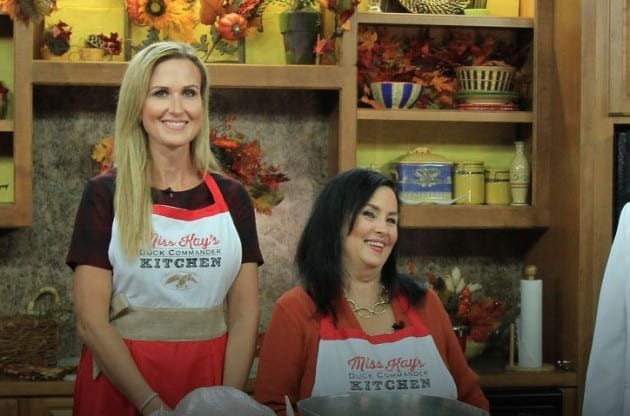 One of the great things about Duck Dynasty is that you always know exactly what you're getting. If you need a half hour of family friendly laughs and redneck antics, you always know where to go and you will  never be disappointed. You'd think they'd have run out of ideas in seven seasons, but they haven't yet!
This week, the Robertsons took over a local news studio, and did a Thanksgiving edition of "Good Morning Arklamiss". It was everything you 'd expect with a morning show. Two anchors (Willie and Jase), a field reporter (Phil), a weatherman (Si), a cooking segment (with Korie and Miss Kay), Jepercise (obvious) and more! The fashion segment even featured recent Dancing with the Stars runner-up Sadie Robertson.
The best bit of the episode, for sure, was Si doing the weather. Of course, Uncle Si is arguably the best part of Duck Dynasty, period. Watching just about anything with Si is hilarious. Always.
Perhaps my favorite element of Duck Dynasty as a whole is the banter between brothers. Willie and Jase were the perfect choices as anchors for this special episode, because the banter between them is always a hoot. They make fun, witty comments and one can not ever say anything dumb without the other calling them out. It's a beautiful relationship, really, and so much fun.
I'm so glad that Duck Dynasty is back. Here are some of my favorite quotes from the episode:
"If I did that, I'd fart"- Godwin, during Jepercise
"I'm gonna need more room"- Martin, also during Jepercise
"Like the sphincter of a gentleman who bungee jumped and realized he forgot to tie his bungee cord to the rail"- the ever-eloquent Phil Robertson
Are you all glad that Duck Dynasty is back? What were your favorite moments? Let us know!! And of course, Happy Thanksgiving holiday to you and yours.
Photo via A&E