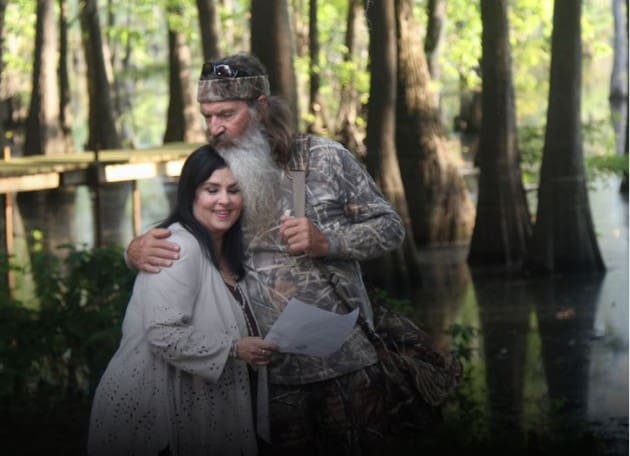 Ever wonder what would happen if you get a bunch of rednecks together to solve an Algebra II problem? Well fear no more, because Duck Dynasty has answered that question, and it's better than you ever hoped it could be.
It's not every day that your favorite reality program lampoons your least favorite subject in school, but by George, today was that day. While constantly mentioning how little Algebra has affected their adult lives (something to which I can certainly relate), Willie and Jase decide to do a "math experiment" to help Sadie with her homework. Sadie is probably the least excited about this idea, but hey, who is excited about their dad's weird experiments? It was one of those Algebra word problems where two trucks start at different times and go different speeds and one arrives first. They decide to use real trucks and drive it out, but of course, that turns into a manly competition between brothers. The only thing they don't get by the end of the episode? The answer to the math problem. But it was funny to watch for sure.
In a much less interesting subplot, Miss Kay and Phil come to an agreement that Kay will get Phil out of a birthday party if he will never mention her hoarding tendencies ever again. Of course, Kay's legal counsel (Si) suggest that she get it in writing. So of course, Si himself writes out a contract and has Phil and Kay sign it, but that's not enough. It has got to be notarized. I didn't learn much math in this episode, but I DID learn that Mountain Man is a notary public. I mean, who knew? Anyway, at long last, Mountain Man is able to notarize the contract so that Phil can get on fishing and Miss Kay can get on hoarding.
This isn't the strongest episode that Duck Dynasty has ever put forward, but I actually think it poses some interesting questions. Do you need Algebra to succeed? I mean, some would say yes, but Willie Robertson obviously hasn't needed it. Shows like this, and Are You Smarter Than a Fifth Grader? show us that perhaps not everyone needs to learn everything taught in school to succeed in life, but rather they need a good work ethic and a sense of humor. I hope that was what I was supposed to learn from this episode…cause that's what I got!
As always, here are some of my favorite quotes from the episode:
"Even if this WAS a math problem, I'd still win"- Jase
"As your leave of council, I advise you not to use dogs as witnesses"- Si
"Nah. I don't deal with the government" – Phil
"I'm not trying to brag here. I am bragging"- Jase
Strong episode or not, I always have fun in West Monroe with the Robertsons. I look forward to continue learning lessons from my favorite duck-calling family.
What did you guys think of this week's episode? Did you get the same lessons from it that I did? Did you enjoy it more? Â Let us know!!
[Photo via A&E]