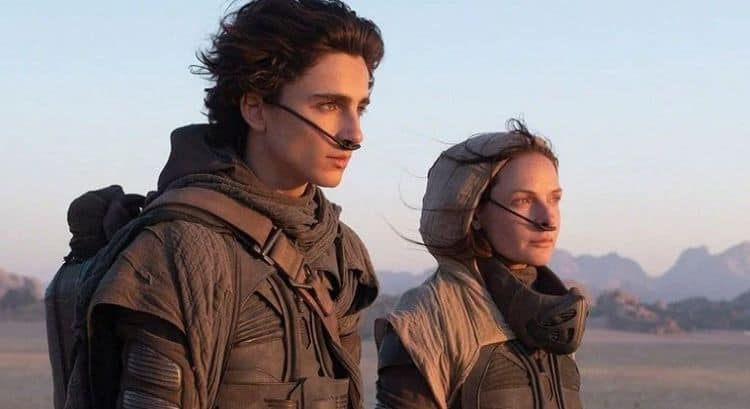 There are plenty of debates about science fiction movies and there is a big debate about Dune vs. Star Wars. The big debate really comes from the idea that the original Dune movie from the 80s was bad, but if it was good, people would be crazy about Dune and think of it as the quintessential science fiction series instead of Star Wars. I can't be the only nerd in the world that has been wanting a good Dune movie since I saw the first one from the 80s and then read the book (because I do things backwards sometimes).  The first trailer didn't give too much information on what the story was about. Though if you did read the book, it gave just enough to pump you up. But the second trailer for Denis Villenueve's version of Dune opened up the story just a bit more, and shows that it seems to be accurate to Frank Herbert's 1965 classic novel, Dune.
It shows that Dune is a HUGE universe but this story is focusing on a single planet. Without giving too much information about it, the trailer shows us that the film follows Paul of House Atreides in the time that House Atreides takes control of "Spice" production on the desert world of Arrakis. I'll talk more about this after you watch the actual trailer.
A Mild Analysis
Now, we see that the trailer doesn't give too much info into what "Spice" is, so I'll enlighten you a bit. Spice is basically the most important resource of the universe and Arrakis is one of the few places that it can be found. Spice is what makes space travel possible. Debatably more important, if Spice is consumed, it can extend a person's life and give them sort of a superhuman/superhero abilities.  That's about all the important information you need on that though. This trailer kind of shows some of the cool technology that is in the Dune universe. It shows the force fields that are activated on people's belts and used during hand to hand combat. It gives a bluish shield around the individual. 
It also gives us a glimpse into the most common form of transportation: ornithopters. These are ships that basically look like giant metal dragonflies. It'll be so interesting to see them play out on the big screen here. The trailer also shows off some of the fighting technology, which is primarily blades instead of laser guns like in Star Wars. Also unlike Star Wars, the blades are normal sharpened steel instead of lightsabers. But, like in Star Wars, there are some people that have a kind of superpower similar to the Force. Not everyone has it, and it makes people much more powerful and important to the story.
The last, really interesting shot of the trailer is when Paul is fighting a bunch of people in his armor, then the face opens and we see his eye color has changed from dark brown to a light blue. It kind of gives me some Chronicles of Riddick vibes, but it explains it more in the novel. I don't want to dig into it here, otherwise, you may not feel super motivated to go see the movie! I'll leave it at the fact that the eye color change is important to the story and is representative of Paul being extremely important to the overarching, long term story.
Who's in Dune?
This iteration of Dune is directed by Denis Villeneuve, who recently did amazing with Blade Runner 2049. His experience with science fiction films made him a perfect candidate for this one, and I'm excited to see where this has him end up. Dune has an absolutely star studded cast with Paul Atreides played by Timothee Chalamet, Zendaya is Chani, Jason Mamoa is Duncan Idaho (no relation to Indiana Jones, I checked), Rebecca Ferguson as Lady Jessica, Josh Brolin takes on the role of Gurney Halleck, Dave Bautista plays a big scary dude (like in most his movies) names Glossu 'Beast' Rabban, Oscar Isaac plays Paul Atreides father named Duke Leto Atreides, Stellan Skarsgard plays the lead bad guy named Baron Vladimir Harkonnen. Basically, this movie is absolutely stacked. I might be just projecting here, but I don't see any way for this movie to be bad. The cast is too good, and the director is phenomenal. On top of that, the story is simply amazing. I think of Dune as a cross between Game of Thrones and Star Wars; a huge universe with different families trying to take control.