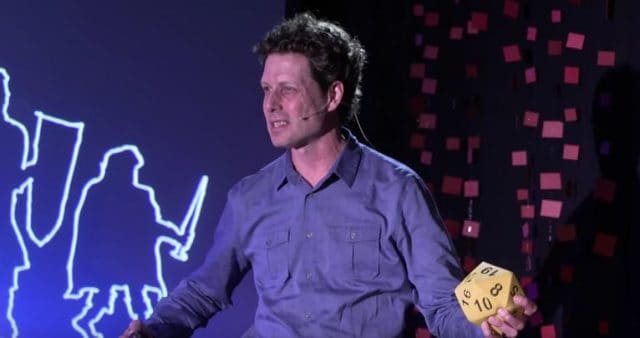 If you ever played Dungeons & Dragons as a kid or even now, you'll know that it's a commitment.  It's a time consuming game.   However, little did your realize that when you were taking an imaginary adventure with dragons, elves and evil wizards that you might be unlocking the secrets to success in real life.   While D&D has been part of the "geek" culture for years, a recent TedX talk is proving that not only should you play this game, it might teach you some serious life lessons.
Ethan Gilsdorf captures the attention of the audience in this 22 minute video by explaining how some of the fantasy applications of this game can be used in real life.  If you can conquer the dragon in D&D you just might be able to conquer some other real life obstacles.
The quintessential nerdy pastime of Dungeons & Dragons (also called D&D) can actually be the secret to life success. How? Ethan Gilsdorf shows us how this groundbreaking game involving communal storytelling, dice-rolling, and imaginary adventures in lands filled with dragons, quests, elves and evil wizards actually gives us powerful tools to combat the perils and challenges of reality.
About Ethan:
Journalist, memoirist, essayist, critic, poet, teacher and geek Ethan Gilsdorf is the author of the award-winning travel memoir investigation Fantasy Freaks and Gaming Geeks: An Epic Quest for Reality Among Role Players, Online Gamers, and Other Dwellers of Imaginary Realms. A former Paris-based food and film critic and travel writer, and now based in Providence, Rhode Island, Gilsdorf covers and comments on pop culture, geek culture, the arts, travel, media and technology, and writes essays for The New York Times, New York Times Book Review, Boston Globe, Boston Magazine, Salon, Wired, Art New England, and WBUR, among dozens of other magazines, newspapers, and websites worldwide.