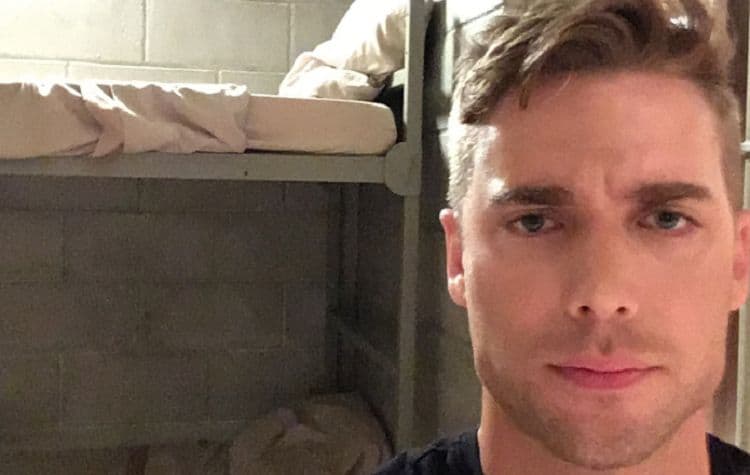 Everyone, and we mean everyone, loves Dustin Milligan. He is nothing short of a fan favorite in terms of everything he does, every role he takes, and everything he stands for. However, he will likely go down in history as most famous for his role as Ted Mullens, resident veterinarian, and all-around nice guy, on the exceptionally fabulous show, Schitt's Creek. What Dan Levy thought might be a fun show to create turned into a sensation when people realized just how clever, intelligent, and absolutely hilarious it was. The show went from fun and a hit to a super, mega, insane hit that turned the world upside down. Personally, we've already binged all the seasons at least four times. It's that good. When Dustin Milligan took on the role of Ted Mullens, he had no idea what he was getting himself into.
1. He is Canadian
Dustin Milligan was born on July 28, 1985, in a place called Yellowknife. That is located in the Northwest Territories of Canada. His mother was actually a city councillor in the area when he was growing up.
2. He is Not Single
While things did not work out with Ted and Alexis (cue tears for all of us remembering the most beautifully written and most heart-breaking breakup in the history of all things), he has been in a relationship with his girlfriend for more than a decade. Her name is Amanda Crew, and she is a Canadian actress.
3. He Was the First Actor Cast in 90210
If anyone remembers all the way back to the day that the 90210 reboot was made, you might remember that Milligan was a main character in the first season. He was Ethan Ward, boyfriend of Naomi and star Lacrosse player at West Beverly Hills High School. Of all the characters cast on the show, he was the first to land his role and secure a job.
4. Dan Levy Was a Kind-of Friend
Before Levy created his hit show and the role of Ted, Milligan was at his LA house just hanging out. It seems that there is a bit of a Canadian hangout situation in LA where actors and actresses from Canada get together. He was at Levy's house for a gathering when Levy told the actor he was working on a fun little project and might have a job for him. They thought it was cool, and moved on from there, but it actually happened.
5. He Has a Favorite Scene
When filming with Annie Murphy the first time her character, Alexis Rose, slept over at Ted's house is the favorite, best scene he filmed. When he thinks about it, he laughs. The cast had to put snacks into the diaper of one of the dogs that got into the bed with them, and it was just funny.
6. He Loved Working with Two of the Best
When you think of actors like Eugene Levy and Catherine O'Hara, you think of things like "American Pie," and "Home Alone," where they both respectively play the sort of out-of-touch, hilarious, amazing, fabulous parents of the main characters. Everyone loves them. They are nothing short of pure icons. Working with the two of them is literally the greatest thing that was ever offered.
7. He Sweat A Lot
During the first season of Schitt's Creek, he sweats a lot. To the point that they had to shove paper towels into his armpits and keep him dry. In fact, someone else was always on hand ready to blow him dry when he was done with a take so that his armpits would remain dry.
8. He Needed A Stunt Double
We all knew him as Hot Ted when he showed back up into Alexis' life after she broke his heart by preferring Mutt to Ted. When he rolled through Schitt's Creek on his motorcycle, Alexis was impressed by Hot Ted. However, it wasn't Milligan. He cannot ride a bike like that, so they needed to give him a stunt double.
9. Dan Levy Was his Frist Man Kiss
When he had to kiss Dan Levy during a housewarming party episode of the show, it was his first time kissing a man. And he does not like how it all turned out. They did it a million times, and he still finds himself criticizing his own part in the kiss and wishing he would have done it differently.
10. He's Done Well for Himself
Over the course of his successful career, he has done well for himself. Not only did he get to play one of the most memorable characters on television, but he also got to earn a lot of money doing it. He is worth approximately $2 million.