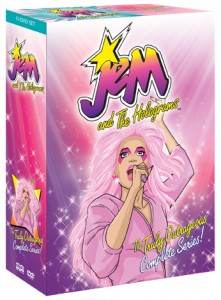 Jem and the Holograms are truly outrageous again as the popular cartoon series makes its debut on DVD in a complete series set from Shout! Factory.
Before there was Hannah Montana, Jem was the original double life rock star. The basic story revolved around record producer Jerrica Benton and her alter-ego Jem, who Jerrica became after pressing one of her magical earrings provided by Synergy, a holographic computer program/synthesizer that her late father built. Joining Jem in her adventures was her band mates Aja, Shana, and her little sister Kimber. Jerrica's boyfriend Rio was also along for the ride most of the time, but had no clue that Jem and Jerrica was the same person.
As with any cartoon, there has to be a foil for our main "heroes," and that duty was given to the rival band The Misfits, which managed to sabotage Jem and the Holograms in each episode while singing their latest track at the same time. Led by Pizzazz, The Misfits were abrasive and quite dangerous in their endeavors to take Jem and crew out of the running for whatever event/concert of the week they were competing for. From kidnapping to nearly killing Jem and her friends on numerous occasions, the Misfits only had one goal in mind: to be at the top of the music game. Helping the Misfits was Eric Raymond, former co-owner of Jerrica's company Starlight Records, which Raymond vowed to own one day. Think of him as the Cobra Commander/Megatron of the series
If you are an 80s kid, then you should have some sort of inkling of the Jem cartoon show. Maybe your sister watched it after G.I. Joe went off or maybe you owned all of the dolls and cassette tapes that featured the latest fashions and songs from the show. Either way, Jem and the Holograms is a staple of 80s pop culture alongside toys and shows like Ghostbusters, Rainbow Bright, and the Cabbage Patch Kids. Jem and the Holograms became a hit and went on to run for three successful series before closing shop in 1988. In between those years, we saw new additions to both The Holograms and The Misfits, another rival band, named The Stingers, and a new theme song that left some fans highly upset, an anger that lasts to this day.
The DVD set, which hit shelves on October 11, features all three seasons on 11 discs. The set is chock full of special features as well, including animated storyboards, the official writers' bible for the show, and even the original toy commercials.
Order the set on Amazon.