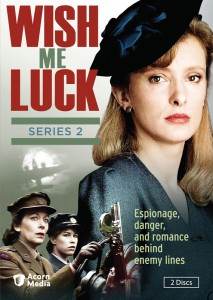 Going into it, I was really afraid that the second series of Wish Me Luck would be much like that of Enemy at the Door: incomprehensible unless you'd seen series 1. Luckily, that was not the case with Wish Me Luck, which follows British women undercover as secret agents in France during World War II. And, unlike the similarly-set Enemy at the Door, Wish Me Luck is immediately watchable. Series 2, which hits DVD on January 25, is surprisingly great.
That's not to say that some of the plots aren't carried over from the first season (also available from Acorn Media). Kate Buffery's character Liz Grainger has demons in her past left over from the first season, but those are only really evident from distant glares that overcome her in nearly every scene she's in. It's possible to work it out from context clues, but there's obviously an entire season's worth of stories that Grainger is reflecting on.
Luckily, two new storylines begin in this series: new recruits Vivien (Lynn Farleigh) and Emily (Jane Snowden) are quite magnetic as they hide their own flaws to become members of the spy game. Tension builds, though not without incredibly lighthearted moments. Are the characters as compelling as one would like? Not really, but they are certainly fun to watch.
The DVD set itself is standard, with the two discs enclosed in a standard DVD case inside a slipcover. It's no more than is necessary, and no less. Unfortunately, there are absolutely no special features (aside from English subtitles) — but this isn't a show that really requires them. It's a solid show, and one that any fan of British television will certainly enjoy.
Order it on Amazon for $29.99.