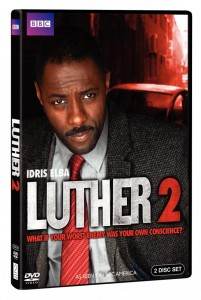 Luther's first series ended with a question: "Now what?" After all, when we left John Luther (Idris Elba) at the end of the first series, he had just seen his wife's killer — and his former best friend — gunned down by Alice Morgan (Ruth Wilson), the uncaught culprit of a past case with whom Luther had developed a strange friendship.
Luther 2, out on DVD from BBC Video October 25, begins with those words as well, though this time spoken by Alice herself, who takes on a less prominent role in the show's second series. She's in prison for the aforementioned killing; her role as Luther's sidekick is largely replaced by Mark North, portrayed brilliantly by Paul McGann (who portrayed the Eighth Doctor in Doctor Who). While Alice's presence is felt through subtle bits of dialogue (and sporadic appearances), she's largely a peripheral figure for the series.
Of course, though, John Luther is the focal point of the series, with a once-again powerful performance by Idris Elba. Not since Stringer Bell has Elba played such a magnetic and complex character. If anything, he's more damaged than he was the last time we saw him. He's still coping with the death of his wife, though aside from a few moments of Luther contemplating suicide, that's pushed under the surface in favor of the more pressing cases. His path of redemption, though, puts him in interesting dynamics with interesting new characters.
Unlike series 1, which dealt with six different cases, Luther 2 only deals with two, each spread out over two episodes. The first case is the show's darkest yet, featuring Lee Ingleby (George Gently, Harry Potter) as a psychotic killer who wants to instill fear in Londoners a la Jack the Ripper. The second case, meanwhile, starts by focusing on supposedly random killings, but in the second half becomes a more complex case with an interesting twist.
It's been confirmed that there will be a Luther 3, and that's something we can all be happy about. After all, Luther has the uncanny ability to make us wonder, What next?
Order it on Amazon.
Check out some videos from Luther 2 below: