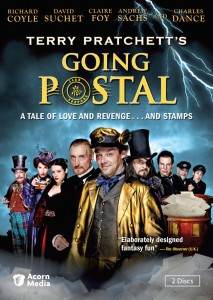 Terry Pratchett's Going Postal is a rare sort of fantasy series; it blends absurdity with absolutely fantastic worldbuilding to create a setting of steampunk whimsy, held together with the glue of solidly clever writing.
The series, on DVD and Blu-ray from Acorn Media September 20, concerns career con man Moist von Lipwig (a dashing Richard Coyle) who is forced to take over a post office as part of the parole for his crimes. He's opposed by the villainous Reacher Gilt (a chameleonic David Suchet, Poirot), the owner of a more modern communication method that has established a monopoly over the entire postage industry of the city of Ankh-Morpork. He also has to contend with his love-hate relationship with the feisty and independent Adora Dearheart, whose life he might have accidentally ruined during his swindling days.
The story, adapted from the Discworld novel by author Pratchett (who makes a cameo appearance in the series), is clearly allegorical for today's need for immediate communication through advancing technology. It also just happens to include golems, banshees, and it's set in a world that lies on the backs of four elephants who themselves stand on the back of a giant turtle who swims through the cosmos. So it's not exactly all serious allegory.
The acting is fantastic. Claire Foy (Upstairs, Downstairs) delivers a strikingly charming performance as Adora, while Charles Dance (Game of Thrones) is particularly engrossing as the morally grey (but always efficient) Lord Vetinari, the leader of Ankh-Morpork.
The two-episode miniseries, unlike most Acorn Media releases, actually contains over an hour of bonus features on a second disc, including interviews with various cast and crew members (and even some fans who served as extras for the show), some deleted scenes, and a pretty funny blooper reel.
Is the show worth it? Fans of absurd British comedy (i.e. Monty Python) will get a kick out of the series, as will fans of quirky sci-fi (i.e. Doctor Who). If you're part of that overlap like I am, you'll love the series even more so.
Terry Pratchett's Going Postal hits DVD and Blu-ray on September 20. Order it from Amazon.