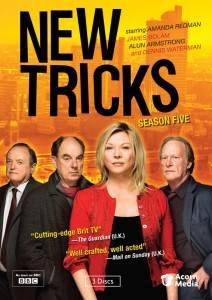 New Tricks is nearing the end of its eighth season over in the U.K., where it airs on the BBC. Americans, unfortunately, are still catching up with this gem of a British series, though; season five hits DVD from Acorn Media on September 27.
The interesting thing about New Tricks becomes clearer after you watch multiple seasons of the show; it doesn't have a wandering attention span when it comes to story arcs. For instance, the main subject of tension in the first episode of the season stems from an incident that occurred in the first episode of the fourth season. And even that incident carries over from events of the third season, and even to events that transpired before the series started. Season 5 doesn't even resolve this storyline; it lets it linger. And while by all accounts it should be stretched thin, it's dealt with in such an economical way that it just works.
As with previous seasons, the cases are typical cold-case fodder that really isn't that compelling. The show's strength lies with the characters, acted with gusto by Amanda Redman, Dennis Waterman, Alun Armstrong, and James Bolam, all veteran TV actors. Seeing their world-weary interactions and surprising gruffness (none of them are the grandfatherly type you might expect in a television show) is absolutely gratifying.
If you're going to start on the show, however, I wouldn't start with the fifth season — there are too many story threads hanging. The first season is always the best bet, though starting with seasons three or four wouldn't leave you too stranded, either.
Much like the third season set, the season five set features a short behind-the-scenes documentary as the only special feature.
You can order season 5 on Amazon.