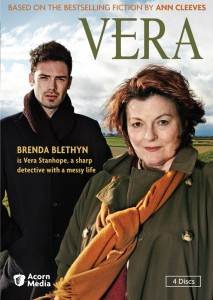 Vera is what you get when you mix Prime Suspect with Single-Handed. The titular DCI Vera Stanhope has all the crime-solving capabilities and emotional burdens of Prime Suspect's Jane Tennison, but she solves mysteries in a more rural, coastal setting, similar to Single-Handed. The result is decidedly a mixed bag.
The first season of the series, out on DVD Tuesday (8/30) from Acorn Media, features the mercurial Vera (Brenda Blethyn) as she makes her way through four mysteries. Blethyn is excellent as the eponymous detective, chewing on the scenery every moment she's on screen. The best part about Vera is that you can't predict how she'll act; she's very emotionally introverted to the point of being rude. She's also a drinker, swearer, and occasionally a bit nasty. That doesn't make her any less likable. The best part about Vera is that it compellingly juxtaposes her ineptitude in her personal life with her aptitude in solving mysteries.
The mysteries themselves are often needlessly convoluted, though, and occasionally the outcomes yield indifferent emotions. The actual criminals sometimes feel as though they were thrown in purely for the surprise, and it feels like cheating at times. It's a fascinating bit of a character study, but it's not really a great mystery story.
While Vera doesn't have a subtitle like "Set 1" or "Series 1" as some Acorn Media releases do, the series has been renewed for a second season. Though the press release mentions the renewal, it seems likely to me that the set had already been designed by the time the announcement of renewal came (the season finished up its original run in May back in the UK). So if you decide to get this set, be forewarned: there's more Vera to come.
You can order Vera on Amazon.