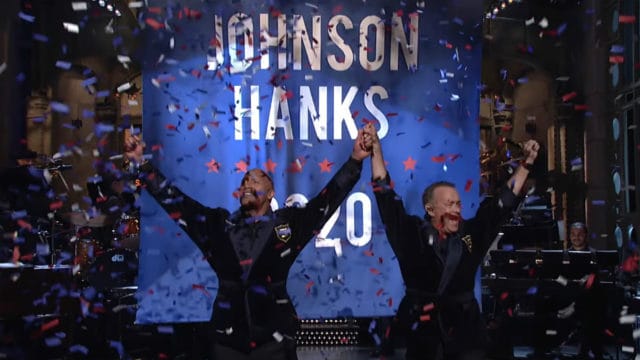 As many of you know Dwayne Johnson (better get used to deleting "The Rock" if he actually runs for President) is being propped up right now as the next Democratic candidate to run for President of the United States in 2020.  At first I'm sure many people thought this was somewhat of a joke.  But an actual poll was recently taken that said Johnson would defeat Donald Trump handily if an election were to take place today.
Since that time Johnson's gone on record in saying that he's very flattered and humbled by the support.  For now he's saying "we'll see" but Johnson has not counted anything out nor has he shied away from admitting that politics is something he's seriously considering.
But on a more not so serious note, Johnson was the host of SNL last night and of course the show wanted to take advantage of all this political talk.  Who better a potential running mate for Dwayne Johnson than Forrest Gump himself, Tom Hanks?
At least that's what this monologue will reveal: