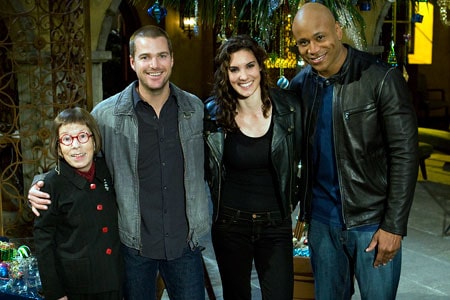 NCIS: LA began its sixth season last month. It was revealed that the drama starring LL Cool J, Chris O'Donnell, and Daniela Ruah would be involved in a cross-over episode. You probably thought that the cross-over would involve sister shows NCIS or NCIS: New Orleans. Not this time. Tonight's episode of Scorpion will feature a visit from Linda Hunt's Hetty Lange trying to help the team crack a case. This is not the first time network's have done a crossover episode this season. Family Guy ventured to Springfield to meet The Simpsons in September.
The NCIS LA cast may be recognizable to you now, but this cast of talented actors have appeared in countless television shows before appearing on the hit drama. TV Overmind decided to take a look at each star's resume and share with you some of their early television roles.
LL Cool J -Â In the House
LL Cool J entered the scene as a rapper in 1984 when he was signed by Def Jam records. He released his album Radio in 1985 and it peaked at #46 on the Billboard 200 album charts. Some of his top hits include "Mama Said Knock You Out," "Big Ole Butt," and "Headsprung." Though LL Cool J did play a rapper in the 1986 comedy Wildcats starring Goldie Hawn, his big break in the acting world would not come until 1995 when he would star on his own sitcom In the House.
In the House was a mid-season replacement on NBC and premiered on April 10, 1995. Due to low ratings, the comedy was cancelled. UPN would pick the show up for a second season. It would then continue for an additional four seasons. LL Cool J played Marion Hill, who was a former LA Raiders football player. Due to financial problems, Marion is forced to rent out his house to a single mom played by Debbie Allen and her two kids played by Maia Campbell and Jeffery Wood. The show was restructured after the second season to appeal to a more adult audience. Debbie Allen and Jeffrey Wood were replaced by Kim Wayans and Fresh Prince of Bel-Air's Alfonso Riberio.
The first season of In the House averaged 11.1 million viewers. In today's numbers, the show would be considered a hit, but in the 90's the show only ranked as #44 for the most watched shows of the 1994-1995 television season. By the fourth season, the show was only being watched by 2.8 million viewers.
LL Cool J has remained in the acting world having appeared in such movies as Deep Blue Sea and S.W.A.T. He has been a part of the NCIS LA cast since the first season.
Chris O'Donnell - The Practice and Grey's Anatomy
Chris O'Donnell's acting career actually began by guest-starring on a 1986 episode of the short-lived drama Jack and Mike. His career would begin to take off on the big screen in the 90's. He would star in Fried Green Tomatoes with Kathy Bates, School Ties with Matt Damon and Ben Affleck, and Scent of a Woman alongside Al Pacino. O'Donnell would also star in Batman Forever and Batman & Robin. It would not be until the 21st century that O'Donnell would make the move to starring in television.
In 2003, O'Donnell made a guest appearance on David E. Kelley law drama The Practice. He would play Brad Stanfield for four episodes during the season's eighth and final season. Brad is accused of poisoning his pregnant wife, but he claims his wife was trying to commit suicide. After The Practice, O'Donnell guest-starred on Two and a Half Men and Head Cases. Then came Grey's Anatomy.
O'Donnell appeared in a total of nine episodes of the Shonda Rhimes medical drama playing Veterinarian Finn Danderidge during the show's second and third season. Meredith (Ellen Pompeo) takes her sick dog to the vet and meets Finn, who ends up receiving the nickname "McVet." He becomes interested in Meredith and asks her out. Meredith has been trying to get over Derek (Patrick Dempsey) who is trying to work things out with Addison (Kate Walsh). In the end, Meredith picks Derek and Finn disappears and is never shown again.
Two years later, Chris O'Donnell became a part of the NCIS LA cast playing G. Callen.
Linda Hunt - The Practice, Carnivale, and Space Rangers
Linda Hunt is most remembered as playing Miss Schlowski in Kindergarten Cop. However, she has appeared in many television roles before she joined the NCIS LA cast in season one as Hetty Lange. In the early 90's, Hunt starred on a short-lived sci-fi drama called Space Rangers. The show focused on a police force stationed in deep space. She played Commander Chennault in all six episodes of the series.
Like O'Donnell, Hunt appeared on the law drama The Practice. Over seven seasons, she appeared in 23 episodes as Judge Zoey Hiller. Her first appearance was in the pilot episode. That first episode involved cases about drug dealing, a wrongful death suit, and a man exposing himself in public. Hunt would also lend her voice as "Management" for 10 episodes of Carnivale. Plus, She is the voice of Grandmother Willow in the Pocahontas films.
Daniela Ruah - Portuguese Soap Operas
Daniela Ruah has quite an extensive career in Portugal television. Her first role was playing Sara on the series Jardins Proibidos in 2000. She appeared in all 148 episodes over the 1 year it was on the air. When the show concluded, she then appeared on all 168 episodes of Filha do Mar between 2001 and 2002. Three years later, Ruah played Rita on Dei-Te Quase Tudo and then as Daniela on Tu e Eu. Her first role on American television was as Gigi on Guiding Light. She has been a part of the NCIS LA cast playing Kensi Blye since the very first season.
Barret Foa – Small TV Roles
Barret Foa is fairly new to television acting. His first on-screen appearance was in 2007 playing Dylan in an episode of the very short-lived drama Six Degrees. Additionally, he has appeared on shows such as Numb3rs, The Closer, and Entourage. He has been a part of the NCIS LA cast playing Eric Beale since season 1.
What is your favorite role a member of the NCIS LA cast played? Tell us in the comments below.
Photo by: CBS