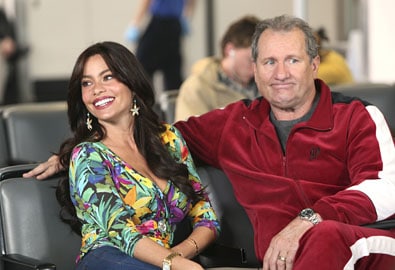 I've gone on record in saying that I'm not too big a fan of Modern Family anymore.  With the show in its 8th season already, it's getting a little stale.  That's what happens with comedies.  I never really liked the kids on the show ever since they started getting older, and there's only so much of Cam you can take.  Honestly I think the show should call it quits though the networks and millions in revenue would never let that happen.  The thing is, it's still a decent show but I think I'm just so used to it by now that I've had enough.   However, I will say there's one constant on the show that I'll always like, and that's Jay Pritchett, played by Ed O'Neill.
Pritchett is O'Neill's modern day Al Bundy if he were successful and had a trophy wife.  While Pritchett is 100 times smarter than Bundy, he's as "male" as they come.  In fact I think Pritchett is essentially Al Bundy's idol.  I wonder if the writers had this in mind while coming up with the part for O'Neill.  Speaking of Al Bundy, do you realize how young Ed O'Neill looks as Al Bundy?  It's almost as if he's a different person.  Also, how young did O'Neill look in season 1 of Modern Family?
When you see him now he looks just like he should, as an aging older patriarch.   But it's hard to believe just 7 years have passed since this jumpsuit photo with an older shockingly younger looking Sofia Vergara vs this photo below of O'Neill in the current season.  Time really flies.
P.S. I love Ed O'Neill so this isn't a knock on you buddy.  You've just aged quite a bit, that's all.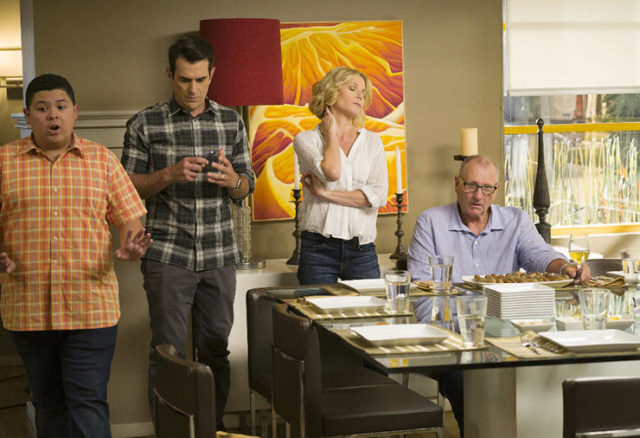 And of course, Al Bundy.