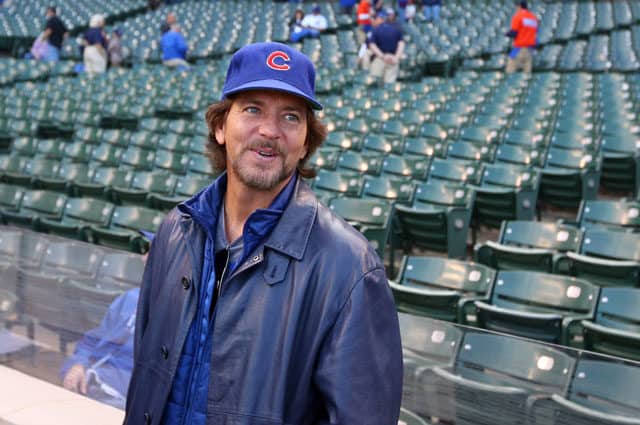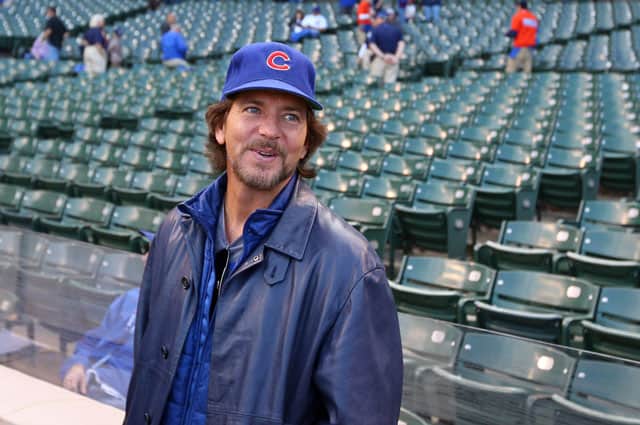 Jack McKee and Manny Miller had the busk of their lives this past weekend. The two have been busking at the corner of Waveland and Sheffield since 2016. They schedule their performances for weekend afternoon Cubs games. What wasn't on their schedule this past weekend was busking with Eddie Vedder. The two thought they were done for the night. It was Friday, about 5 p.m., when drummer McKee looked up and saw Vedder, and shouted, "Ed?!". Vedder simply said, "You guys should keep playing." McKee said Vedder walked across the street to Murphy's Rooftop, the rooftop seating area of Murphy's Bleachers sports bar reserved for loyal customers. What happened next was a busker's dream.
McKee and Miller stayed on, and performed for three hours. Every so often, Vedder would give them a thumbs-up and applause. Around 8 p.m., Vedder left Murphy's, walked right across the street and asked Miller if he could play his guitar to jam with McKee. The two started with "The Seeker" by The Who, and that led to Pearl Jam's "Corduroy". The three hung out for five minutes or so. McKee told Jessica Cabe, Arts & Entertainment writer for DNAinfo Chicago that they talked about The Who, Matt Cameron-Pearl Jam drummer, and Vedder's tour. What McKee and Miller didn't expect was that they would play together again two days later on Sunday. Vedder took a turn on McKee's drums and jammed with Miller:
Video clips of the jam sessions are popping up all over social media, as fans of music and the Chicago Cubs post their appreciation for Vedder's awesome impromptu performance with the two young musicians. The news has also hit Rolling Stone magazine and plenty of other influential magazines.
Vedder has a cool tendency to celebrate the Cubs. He's a die-hard fan, and a loyal Chicagoan. Though his band Pearl Jam was based in the Pacific Northwest, Vedder was born in Chicago and returns regularly to cheer on his favorite team. When the Cubs were making their history making run toward the World Series, Vedder, Derek Trucks and Bill Murphy were caught singing after Game 4:
Crazy times in Chicago! Eddie Vedder, Derek Trucks and Bill Murray jammin on "The Weight" at a Wrigleyville party after Game 4 of the World Series!

Posted by Pearl Jam Radio on Tuesday, November 1, 2016
Vedder and Pearl Jam have released a trailer for its concert film, Let's Play Two, which documents their outstanding performances during the historic 2016 Chicago Cubs season. The performances were held at Wrigley Field. The solid relationship developed among Chicago, the Cubs, and Pearl Jam has unfolded at the iconic baseball venue, and the concert film celebrates the excitement of the Cub's winning season along with Pearl Jam's 25 years of performances. The film includes exclusive behind the scenes footage of Wrigleyville and exclusive interviews. Director Danny Clinch has merged the music of Pearl Jam and events of the Cub's winning season to create a film for the dual fan base:
What's great about the recent jam with McKee and Miller is that Vedder had just enjoyed the Cubs' win over the Cardinals, 8 -2, and was totally ready to celebrate. The fact that he shared the celebration with McKee and Miller has won over more fans of the already popular Pearl Jam frontman. Vedder's childlike spirit is captured in the Let's Play Two film trailer as he describes walking into Wrigley Field as stepping into the Land of Oz.
McKee and Miller stepped into Oz themselves for the time Vedder was busking with them. McKee has created a brand-new Instagram account because he's going to need one now. He noted that the Royal Outsiders, the band McKee and Miller are part of, will have more publicity. The duo has had larger crowds listening to them busking after Vedder's jam session with them. McKee said he's grateful for the experience. McKee discovered that Vedder is "just a normal guy". It's quite certain that Vedder is also a great guy.
Save
Save