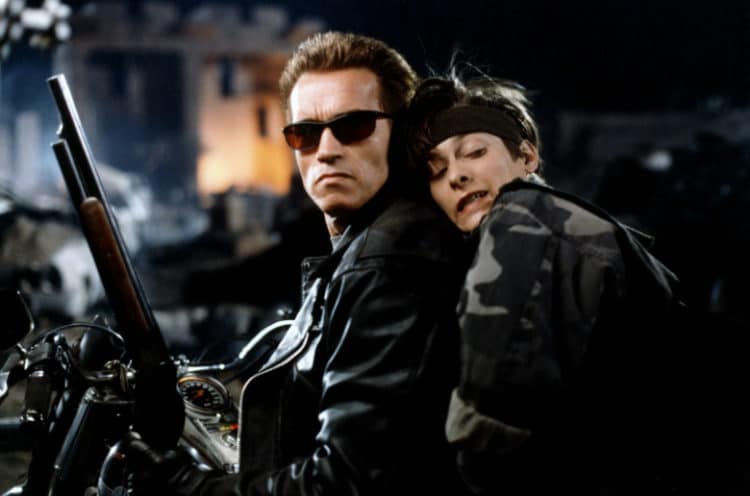 Edward Furlong got very little if any screen time in Terminator: Dark Fate. In fact you might say that it's time to be thankful for his limited role since the movie was such a huge flop in the theaters thanks to a number of variables that Joey Paur from GeekTyrant might agree with. Dark Fate was meant to be a fresh start that people were looking forward to, but instead became yet another huge swing and a miss for the feminist movement that's trying so hard to place their stamp upon Hollywood and make it stick. Some folks might want to argue that keeping John Connor in the mix and making the movie into something that might be easier for fans to take might have been the right road, but when thinking about what Edward Furlong stated when interviewed it's easy to think that people might have mixed feelings about it. After all, Furlong did say this:
"They smoked my a**! That was the role. I shot for one day. And, yeah, we did some CGI. They paid me. So, I mean, ya know. It kinda bums me out. Cause I'd love to do a whole one and make a s***-ton of money. I would love to do more, but we'll see what happens."
Some might state that of course it would have been better to keep him on and keep the whole franchise running as it was without any monumental shifts towards the feminist idea that 'the future is female' that has been running throughout Hollywood like a virus, but then again if the sentiment was taken in another light it might be that he really didn't deserve another shot. People were obviously in shock when they saw John Connor get gunned in Dark Fate since, y'know, that's just not supposed to happen since the eventual leader of the Resistance is supposed to live to a pretty good age before his ticket finally gets punched. But since the original, meandering canon was tossed aside with the 'we are women hear us roar' attitude you can't help but think that no matter how much cherry-picking was done that the franchise was still headed in a very dangerous skid towards the danger zone when it came to the box office.
That backward slide didn't help anyone, but the movie could have at least saved itself by dialing back the whole feminist agenda, but instead it seemed to double down and just go with it. Furlong's words that he would love to make a big amount of money is hard to get behind since one would hope that he'd rather just be back in the saddle to make another great Terminator movie. This almost makes it seem as though he was an out of work actor just waiting for a big break to come that could get him paid and didn't care what it was all about. Jeffrey Bricker of Medium has his own thoughts on this matter.
Of course that's one opinion and while it might be one that's shared, and one that could make the argument that he didn't deserve another shot, there are plenty others that think that it was a needed transition to turn Sarah Connor into the aged and wizened bada** she was trying to be. In T2 that worked to a great degree, but now it almost makes her look like an angry, bitter old woman that has no other reason to live but for revenge since she can't exist anywhere but in that one point and time when she watched her son's assassination. In an era when moving on and letting go of the past seems to be a big part of what people are trying to preach and practice, this idea seems to indicate that some folks just aren't ready to let go of the past and are bound and determined to let it destroy them.
In a way it almost eradicates the memory of John Connor in the most brutal way by stating that he wasn't needed and had simply become dead weight that was necessary to cut in order to move on from a story line that people actually liked in order to give them something that was uncertain and yet already laced with ideals that have been slowly building and are now set to kill off one franchise at a time like slow-acting poison. If you're thinking that this is fanboy talk then you need to read between the lines since quite honestly feminism in all but its third-wave form is great, as equality in every aspect of life, as much as it can be achieved, is a positive and very needed thing. But when it starts killing off that which it's trying to change, well, then people need to step back and reassess their stance a bit. Renaldo Matadeen of CBR has a bit more to say on this subject.