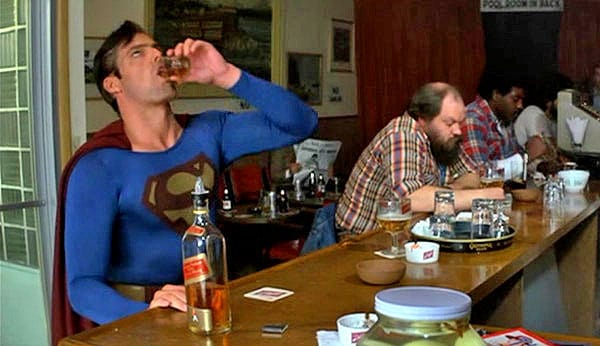 Superheroes are a great breed of character. Let's face it.  They save us when we are in need and you rarely if ever see them fail to get the job done.  But do you ever think of the damage that these guys do on a daily basis? Never do we stop to realize the "hey, that dude ruined my windshield!" or "what the hell? how am I going to fix the roof of my house?" Sometimes we don't acknowledge that while these superheroes are beacons of hope and peace, that they sometimes ignore the law to do their jobs. Is this OK? Well it's a topic that's never really explored.
And I for one won't stand for when superheroes get drunk, cause public property damage and even get high from time to time.  Here are 8 examples of when superheroes go bad
Superman Has a One Night Stand

One of the best Superman scenes of all time
Hancock Flying Drunk
You have to admit, this is a funny concept
Spiderman had one too many
This is awesome
Iron Man has one too many

Ouch.
Superman and Zod
Possibly one of the biggest displays of destruction of property ever (except for in Man of Steel)
Wonder Woman Breaking and Entering
She's destroying public property every single episode.
The Incredible Hulk Ruins a Wedding
Probably not the kind of surprise the bride and groom were looking for.
Evil Superman is Hilarious
Don't you love this guy?