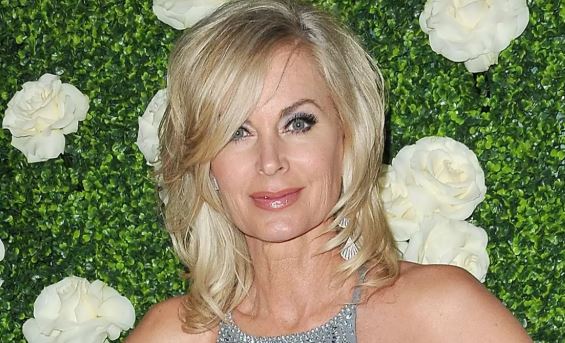 Young and the Restless fans have been watching Eileen Davidson as the role of Ashley for many years, and it seems that this might be the end of the road for her. News broke recently that she's quit the show, and she's not going to appear any longer. That's a devastating situation, but she's always come back in the past. This means she might have a chance to make a reappearance when things settle down in her life, but we also thought we might learn a few new things about the famous actress and real housewife before she leaves for good.
1. She's The Youngest of 7
Some families are big, and her family was no exception to the rule. She is the youngest of seven kids. Her mother stayed home and cared for them when they were growing up, and her father worked hard as someone who manufactured parts for planes. She grew up in a very busy household.
2. She Beat A Lot of Women for Ashley's Role
It was 1982 when she was given the role of Ashley Abbot on the YTR, and she fought hard for it. There were more than 100 women going for the role, and she learned she had it in the bag. We cannot imagine anyone else playing her role on the hit daytime soap.
June is Alzheimer's & Brain Awareness Month, and I go purple for my Mom. Join me and the @alzassociation in the fight to #EndAlzheimers. pic.twitter.com/M8ODT5qFSf

— Eileen Davidson (@eileen_davidson) June 1, 2018
3. She's Thrice Married
She married her first husband in 1985. Their marriage was over the following year. She and her second husband wed in 1997, and they were married for a solid three years before finalizing their divorce. She and her third husband have been married since 2003.
4. She's Been Off and On As Ashley
She began her role in 1982, but she left the show for a while in 1988. She didn't return until 1999.  Then, according to Eileen, "I also was fired from y and r in 2006 and Brad Bell asked me to bring Ashley to B and B. Until the exec that fired me was let go and y and r asked me back a couple years later.
5. She's A Real Housewife
She began appearing as one of Real Housewives of Beverly Hills in 2014. It was the fifth season of the show, and she was the new girl. She was there for three seasons but she left in 2017 as a series regular. However, she did make some guest appearances in the eighth season. She's a well-liked housewife, and her fans were sad to see her go.
Y&R #ThrowbackThursday with John @JerryDouglasYR and Ashley Abbott @eileen_davidson! #YR #youngandtherestless #TheYoungandtheRestless pic.twitter.com/2mdhpwEnDh

— Kim Huck (@acejordan23) May 25, 2018
6. She's a Writer
In addition to being an actress, she's also a novelist. She's written books that are based on being part of the soap opera world. She's been very open about those books, and they did very well. She's done well for herself in that aspect.
7. She's A Well-Paid Housewife
There might be some housewives who don't get paid much money, but Davidson is not one of them. She commanded a pretty large amount (though no official numbers are confirmed) per season while she starred on the reality show, and she's not ashamed of it. It's a pretty good paycheck to show up for a few weeks of filming, traveling, and cocktail parties with the other ladies.
8. She Goes Back and Forth
She was Ashley Abbot first, but she's been back and forth a few times as Kristen DiMera, too. She was Kristen from 1993 to 1998, 2012 to 2015, and for a minute in 2017. She works that role in between her role as Ashely, though sometimes she's the same character on both shows for a while at a time.
9. She's A Two-Time Emmy Winner
Davidson has been nominated for her roles on television four times, and she's won half of those. She won in 2014 for being an Outstanding Lead Actress in a Drama series on Days of Our Lives as Kristen, and again in 2018 for the same title on YTR.
10. She's Not Afraid of Hard Work
For a few years, she worked three full-time jobs. She was on Days, she was on YTR, and she was on the RHOBH. She was not only starring in one show, but three. She had options to back out if anything became too much for her, but she worked it out and did what she needed to do, and she did it well. She was good at all her jobs, and it goes to show you can do what you can do when you can do it.