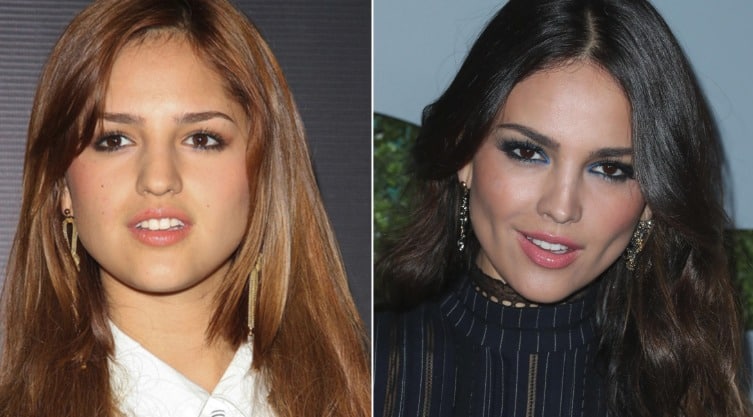 When it comes to nose jobs there are those that are painfully obvious and there are those that are just, well, painful to look at. Eiza Gonzalez would fall into the former category and could never, EVER, be labeled as the latter. When you look at the Before and After pictures, wow. The surgeon that did this knew what they were going obviously and Eiza came out looking like a million bucks. Not to knock the nose jobs of other celebs but this is something that doesn't happen all that often since it came off leaving Eiza with a face that looked like it was chiseled by a master artisan. Am I gushing? Maybe a little bit? Well, there is good reason since the Before picture isn't bad by any means, she's an attractive woman and her features seemed to be kind of soft but not to the point she couldn't have passed as one of the prettiest women in the business. But the After photo looks as though she lost a bit of weight in her face and the nose job is easy to comment on because if you'd never seen her before it was done you might have assumed it was natural. It's also possible to gush since if you've seen some nose jobs it almost looks like the nostrils of the celeb were pinched as though to minimize them and the bridge of the nose almost came to a point where it met the tip.
This job though, c'est magnifique. Yes, that was intended for effect. And it's likely helped her out in her career thus far as you can take a look.
From Dusk Till Dawn: The Series
Quite honestly this series earned a lot of praise from some and a collective groan from others considering that some people thought the first movie was the best and was where it should have ended since George Clooney, Harvey Keitel, Juliette Lewis, Quentin Tarantino, Danny Trejo, Salma Hayek, and of course, Cheech Marin, put in such a great performance for such an unexpected film that it was from start to finish one that made you laugh, scream, then laugh again, and then stare with dumbfounded shock as Seth made his way toward El Ray and Kate saddled up the RV, presumably, and made her way home. As the credits began to roll you could see the bar, decimated by the blast, was actually the top of a pyramid that held a great many levels and a veritable graveyard of trucks, bikes, and cars taken from victims that had been lured to the bar over the decades.
Eiza's role as Santanico Pandemonium, the role made popular by Salma Hayek, is one that fans no doubt loved seeing because she was obviously a high-ranking vampire and until her rather simple death in the first movie was the one you figured would be the top vamp to beat. But of course you might have forgotten that as a villain Clooney is just as awesome as he is when he's a good guy, and Santanico didn't stand much of a chance against him, or his one-liners.
Baby Driver
As kind of a guy movie this one really did require the kind of exotic look that Eiza brought to the character since she looks like the kind of woman every man might want but not every man could possibly have. She has a serious amount of attitude on her but she's all about seduction as well, at least until it's time to get down to the nitty grit and start blasting away at anyone that gets in the way of her and her man when it comes to escaping. She's pretty understanding and even sympathetic to the main character to start with, but when he finally goes rogue and decides to doublecross those he helped in the beginning of the movie she's ready throw down without hesitation.
Eiza has began to take on a very strong role in Hollywood and that confidence she seems to exhibit could come from the surgery she had done. Some folks (guilty) do tend to think that performing plastic surgery is an unnecessary surgery, especially when one's looks are already good enough and don't need enhancement. But barring that it is the person's body and their choice and if something like this can boost their self-esteem and give them the kick they need then so be it. After all when you look at her it would seem as though Eiza has really been upping her game in recent years and to even think of taking on a role that Salma Hayek made famous takes a lot of guts as well as determination. So really, the nose job is something that has had a positive effect on her esteem and her career. More power to her for it.