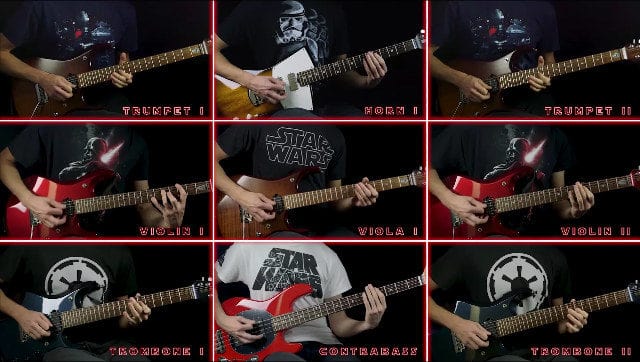 Ever wonder what the Imperial March might sound like when performed by an all electric guitar orchestra? Take a listen below if you want to know, the sound is pretty cool to listen to. It's a little discordant in places, or at least it sounds that way, but if you really listen it all blends in nicely a the piece continues to go along, each note hitting just where it should and providing a base for the next in line. The dreaded Imperial March was, in the movies, a sign that the Empire was close and was perhaps getting close to attaining one of their nefarious goals. But when played like this it sounds a lot more updated but somehow just a little too thin thanks to the fact that there's no other instrument to accompany the guitars. It's still a cool sound though.
The original track is of course just a little more powerful because quite honestly it incorporates the entire orchestra and is able to carry far different and more diverse sounds to create an altogether more complete track. When you separate the different instruments however you can definitely see how each one on it's own needs the other. In this case the guitars need one another to complete the entire track as well. The ability to play so many different notes, and then to mesh them together on a clip such as this, is amazing really since it sounds so seamless in places that you can believe that it might have taken one take for the entire track when in reality it probably took a while to accomplish.
The music of Star Wars has always been considered something worth listening to since each and every piece has carried a bit of strength to it, a small measure of the power that the movie holds to attract viewers' attention and hold it for a while. The musical scores created for the movie have also been perfect since they were initially created with such attention to the situation that they managed to heighten the feeling of the film in such a way that even less than stellar scenes seemed to pop out just a little bit more. The Imperial March was basically the sound you expected to hear when Vader or the storm troopers were around. Well, some folks might have expected a laugh track to follow the troopers everywhere, as though just waiting for them to miss as they usually did.
Star Wars is so well known for its musical score that a lot of people that aren't Star Wars fans would be able to pick the songs out just by memory if they've seen the film. They're that iconic and that distinctive. For decades now though people have been trying out the music in various different ways, perhaps for their own amusement or for some other reason that might be revealed later. Whatever the case, each rendition has its charms, but this one is fun to listen to since it's got the feel and the sound of the Imperial March down.