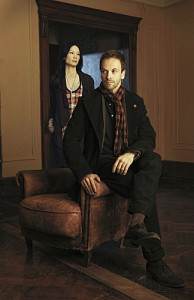 CBS is putting a twist on the classic tale of Sherlock Holmes with the new fall drama, Elementary.
The show stars Jonny Lee Miller as Sherlock Holmes, but this time Watson is played by Lucy Liu. The duo live in New York City, solving tough cases for the NYPD.
As it turns out, Holmes has a bit of a history in Elementary. After some extremely embarrassing behavior and a trip to rehab in London, Holmes escaped to Manhattan, where his wealthy father has assigned Dr. Joan Watson as his sober companion. Watson has her own past: she was a highly successful surgeon until she lost a patient and her medical license three years ago.
But her attempts to help Holmes with his addiction are brushed aside. Holmes has his own strategy for staying sober: helping the NYPD solve cases. Forced to accompany him on investigations, Watson's expertise starts to come in handy. Aidan Quinn plays Capt. Tobias "Toby" Gregson, Holmes' contact at the NYPD.
What do you think of CBS' modern day version of the classic Sherlock Holmes story? Watch a featurette with clips for Elementary below and decide for yourself. This series is scheduled to air on Thursday nights at 10:00 p.m.
For more on CBS' 2012-2013 primetime schedule, click here.
Twitter: https://twitter.com/#!/Elementary_CBS
Facebook: https://www.facebook.com/ElementaryCBS