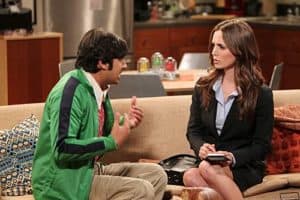 Eliza Dushku, formerly of Buffy and Dollhouse and a favorite of Joss Whedon, will be making her debut appearance on The Big Bang Theory on November 4. Dushku will be playing an FBI agent, Angela, who will be interviewing the characters in order to determine whether Wolowitz (Simon Helberg) is deserving of a security clearance. Sheldon's comments, however, put Wolowitz's evaluation in jeopardy.
CBS has released a few promo photos of Dushku's appearance, which you can view below.
Here's the synopsis as well.
THE FBI INTERVIEWS THE GUYS FOR WOLOWITZ'S SECURITY CLEARANCE, ON "THE BIG BANG THEORY," THURSDAY, NOV. 4

Eliza Dushku ("Dollhouse") Guest Stars as the FBI Agent

"The Apology Insufficiency" – Sheldon's answers during an FBI interview put Wolowitz's security clearance in jeopardy, on THE BIG BANG THEORY, Thursday, Nov. 4 (8:00-8:31 PM, ET/PT) on the CBS Television Network. Eliza Dushku ("Dollhouse") guest stars as the agent interviewing Wolowitz's friends.

SERIES REGULARS:
Leonard…………………………….. Johnny Galecki
Sheldon………………………………….. Jim Parsons
Penny…………………………………… Kaley Cuoco
Wolowitz……………………………. Simon Helberg
Koothrappali………………………… Kunal Nayyar

GUEST STARS:
Angela………………………………….. Eliza Dushku
Dr. Neil deGrasse Tyson…………………. Himself
[imagebrowser id=726 template = flipped]