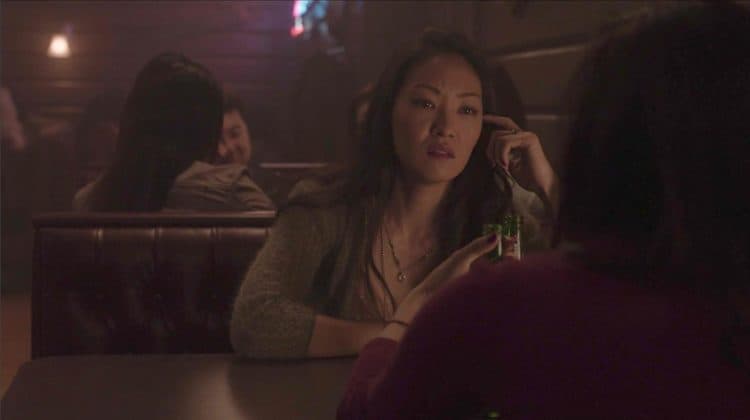 Maybe you are familiar with her, but perhaps you are not. If you are a fan of 'NCIS: Los Angeles', you are likely familiar with her, as she portrays Casey Aguilar on the show. Fans of 'Twin Peaks' probably know her work also, because she played Abbie on the show. But if you haven't tuned into one of those two programs, you may just be hearing her name for the first time. So, who is she? Elizabeth Anweis is an actress, writer, and director whose career is taking flight thanks to the two shows above. This multi-talented lady has much to offer the entertainment world, as she has shown through her work, but there are other facets to her life to consider: The personal, the professional, the playful, and many more. To get a better idea of who this lady is and what makes her tick, we have compiled a list of ten hardly-known facts about her that will give us all a better look into her life, and all of the facets that make it what it is.
1. She's Been Around For More Than A Minute
While you may know her from a couple of more recent series, she has actually been actively working since 2001. Some other credits she has include 'Dim's Anatomy' (2005), 'The Affair', 'The Fosters', 'Rush Hour 2′ (2001), and many more. Elizabeth was also nominated for the Festival Award for Best Lead Actress in a Short Film for her role in "Emotional State" (2017). When you take a look at her resume as a whole, you can see that she has fairly extensive experience in the field.
2. She Is Single
It seems that at the current time, as well as in the recent-to-extensive past, Elizabeth has made her career her primary focus. This basically means that she isn't currently in a relationship and hasn't been for some time. With such a busy working schedule, it can be difficult to maintain interpersonal relationships, and many actresses and actors wait until they are more firmly established before diving into anything deeper than friendships. Ms. Anweis is a pretty private person, however, who likes to stay out of the public eye when it comes to her personal life.
3. Batwoman's Step-Mother
The television series 'Batwoman', which is something she works on currently, is basically still in the process of gathering a fan base, but seems to be fairly popular. Elizabeth plays Catherine Hamilton-Kane, stepmother to Kate Kane (Batwoman) in the series. Since the show is still fairly new, many are unaware of her part, however we're pretty sure it won't be long before she makes more of a mark and becomes more known.
4. What About Her Nationality/Ethnicity?
Anweis is vague about many of the personal facts that pertain to her life, and her ethnicity is one of them. But while this particular point is unclear, she says that her nationality is American. So, while it is obvious that she was born in the United States, she has chosen to leave out her racial heritage for the time being when it comes to revealing bits about herself. Another point she chooses to keep private includes any facts about her parents or any siblings she may have.
5. Yes To Instagram, But Facebook and Twitter Can Take A Hike
Elizabeth is not an avid user of either Facebook or Twitter, so if you were hoping to follow her on either of these social media sites, you probably won't have much luck. With that being said, she is a user of Instagram, and currently has approximately 11,000-plus followers on the platform.
6. What Is the Actress Worth?
According to a wide array of sources, Elizabeth Anweis currently has a net worth of $1 million. This would put her professional salary at approximately $200k to 250k, says some sources, however, it is not clear whether or not this is a yearly figure, or if it is what the actress demands per job.
7. What Is Her Birthday and Zodiac Sign?
While this is not only a good question, but a popular one as well, we can once again only give a couple of vague responses. The year Anweis was born is 1980, which makes her either 38 or 39 years of age. Her specific birth DAY is something she has chosen not to divulge as of now. Since we do not know the month or day of her birth, we therefore cannot say what her zodiac sign is. Perhaps in the future we'll all find out.
8. How Many Parts Has She Actually Had?
Like we said earlier, Anweis has been actively working in the industry since 2001. With that being said, we can assume she has had several parts, many of which we may or may not be aware of. The answer to the question above can be narrowed down to a specific number, however. The actress has had a total of 32 separate credits, some under her current working name, others credited under the name 'Elizabeth Weisbaum', and one that was uncredited (Rush Hour 2). Included, yet not yet mentioned here, are 'Bruised', 'The Colony', and 'Law & Order: LA', among many others, according to IMDB.
9. What Other Parts of Show Business Has She Worked In?
Along with her 32 acting credits, Elizabeth also can be credited with two works as a director ('Meat Puppet' ; 'Love at First Heist'), a writer ('Meat Puppet'), an editor ('Love at First Heist'), and as a self-producer for a video documentary entitled 'Expert Insight: Beating Blackjack'.
10. Would Any of Her Parts Surprise Us?
That's an iffy question, but if one had to be chosen from her long resume that may surprise her fans, it would likely be her role as a nurse on 'The Young and the Restless'. Specifically speaking, it was episode #1.10332, which aired in 2014.