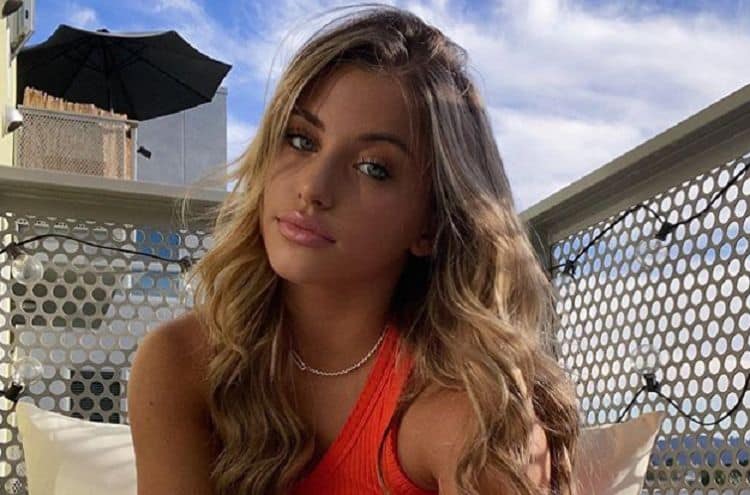 Elle Danjean is a social media influencer with a large following, but she's more familiar to the younger generation than anyone over the age of 30. She has a large following, but she's someone who also has a negative image in the press right now. She's been accused of some pretty ugly things, and her fans aren't sure what to believe. We thought we might get to know her a bit better and see for ourselves what kind of person she might actually be.
1. She Dated Bryce Hall
They had a fairly public relationship for some time. He's another internet superstar who rose to fame thanks to social media. Their relationship was one that they lived publicly – as is everything in their lives, honestly – and it also ended very publicly. They are no longer together.
2. They Broke Up on Good Terms
When the couple first broke up, they both stated it was a mutual situation. They'd remain good friends and spend time together as friends, but they simply would not be together any longer. Their fans were sad, but they got it. They didn't really think much of it.
3. She's the Star of an Unflattering Video
Shortly after her ex announced that they were on good terms and would continue to be friendly with one another, someone leaked a video online of Elle Danjean hitting Bryce multiple times in an abusive manner. He then came out and said that she was very drunk, she was not behaving as she usually does, and that it was an ugly situation. He had something she wanted, and he wouldn't give it to her, so she began hitting him.
4. Her Ex Filmed It
Allegedly, this video was never meant to go public. It was only meant to stay on his phone and be used by him as something that he could show her when she was not drunk. He was worried about her behavior after she'd been drinking, so he filmed it as a way of showing her later – when she was sober – how she was acting.
5. She's Part of Team 10 House
It's a social media influencer house that's run by Jake Paul. It's a house in which social media personalities come to live together, film their content, and grow their follower count. This is how they earn more revenue, get merch lines, and make their future brighter.
6. She's Bold
She makes bold statements on her social media pages. Her Instagram page features some photos of her in the airport not wearing her mask and then giving the camera two middle fingers. She's not worried about offending anyone, that's for certain. She seems very comfortable with herself.
7. She's a Florida State Seminole Fan
So, we don't know if she went there, if she's just a fan, but we know she spends a lot of time in Florida. She might be a fan because that's her alma matter, but it might be more that she grew up near the Noles and she's a fan that way. Either way, she's got photos of herself in an FSU sweatshirt on her gram.
8. She's Been Accused of Other Things, Too
According to some kids from another social media star, Chase Hudson, she was part of a situation in which she was involved with someone who was already with another woman. She didn't seem to care about their relationship, and neither did her best friend, who was allegedly also involved with the same guy. The guy's name is Griffin Johnson, and he was allegedly seeing Elle Danjean behind his girlfriend, Dixie D'Amelio.
9. She's A Ballerina
Growing up, she might have once had a dream of becoming a dancer. She was part of the North West Florida Ballet for more than six years, and rumor has it that she was quite good at dancing. She spent years of her life putting in the hard work to become the amazing dancer that she is today. She made it very clear that dancing was something she was passionate about her entire life, and she's never had a problem being immersed in the world of it when she has a chance.
10. She's Still Young
Her date of birth is May 4, 2001. She turned 19 in 2020. She's making a living not only on social media, but also doing some modeling. We don't know her net worth, though it was estimated to be somewhere around $150k in early 2019, and we don't know if she's still dancing professionally in any capacity.