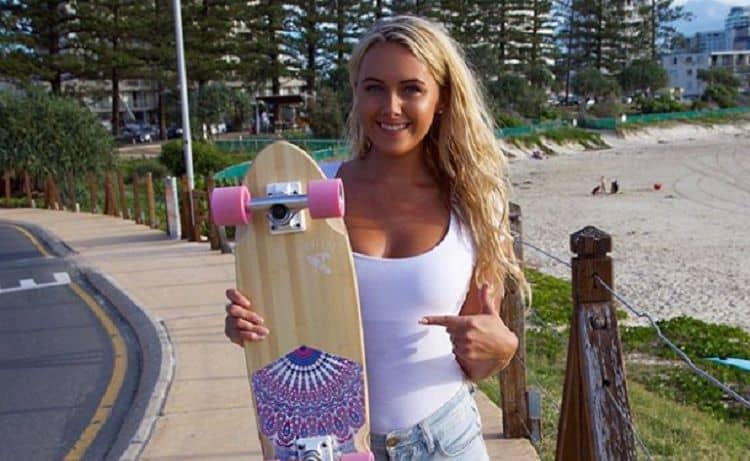 There are a lot of jobs that not just anyone can do. After all, you need a certain look and a type of talent that isn't given to just anyone. Becoming a surgeon means having skilled hands and a calm demeanor in addition to the intelligence to learn how to be so precise and careful under pressure. Becoming a professional surfer requires a certain skill level and talent, a lack of fear, and a lot of training. While Ellie-Jean Coffey is not a surgeon, she is a pro surfer and a model. She's working hard doing two things that not just anyone can do, and that's a big deal. Let's get to know her a little more intimately.
1. She's Young
She's not a teen, but she's still quite young. She was born on November 25, 1994. This means that she's going to celebrate her 26th birthday around Thanksgiving in 2020. She's still quite young, but she's made big things happen in her life despite the fact that she's not been around all that young. She's quite impressive.
2. She's Got a Large Family
We mean large, too. Her parents have seven kids. Seven. She's the oldest of all of them, too, which means they probably still have some small kids running around the house. If not, they definitely have a handful of teenagers. Unless there are some multiples in the mix and they're all a little older. We aren't sure, so we are merely speculating.
3. Travel Made Her Want to Surf
Growing up, she traveled Australia with her family on a regular basis. It was this type of travel that gave her the passion and the desire to get out and get her surf on. She loved to see the waves and those who were on them, and she did what she needed to do to make it work for herself. She learned, and she was good.
4. She's Ranked
We aren't sure how professional surfers are ranked, to be honest. We don't know a lot about the sport. However, we know enough to know that there are a lot of professional surfers in the world, and that her rank of 97th in the QS world rank is more than impressive.
5. She's Got A Big Endorsement
In the world of Instagram influencers and micro-influencers, it's not hard to find someone who can say that they legitimately have an endorsement, but we are here to tell you that Ellie-Jean Coffey has a big endorsement. Hers isn't a small one. It's with Billabong. That's big.
6. Her Sister Surfs, Too
She has a sister whose name is Holly, and she's a good surfer, too. The pair are both pros, and they worked hard to earn their spots in the professional surfing industry. Many years of practice and working hard has led them to where they are in their careers.
7. She's Taken A Career Turn
Ellie-Jean Coffey has changed direction in her life, and she's now modeling for herself. She's opened up her own adults-only website where people pay a subscription to see photos of her, and she's taking it all off. She's not working in the X-rated industry to make a little money now that her life is taking a different direction.
8. She's Single
She is currently single after ending a long-term relationship with her boyfriend. She found out that he was cheating on her in the summer of 2019, and she fell into a deep depression. Her career was suffering in the surfing industry, and she wasn't sure what she wanted to do with her life. She was newly single and upset, and everything felt as though it had been rocked. She's currently dealing with a lot, and it's something she has to work on overcoming on her own.
9. All of Her Sisters Have Hyphenated First Names
She is one of four girls in the Coffey family – the rest are brothers. She's Ellie-Jean. Her sister is Holly-Daze. Her other sister is Ruby-Lee, and her youngest sister is Bonnie-Lou. Her parents definitely had a thing for this type of name, and we think it's a really fun way to name your kids.
10. She Believes in Doing What Makes You Happy
Ellie-Jean Coffey isn't out to do anything but make sure she's living her life on her own terms, and she feels everyone else should do the same. She's all in to make money and do what she wants to do, but she's all about making herself happy. She believes no one is truly living their lives until they are living a life that makes them happy, and that is just that.