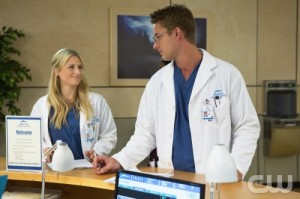 Dr. Bandari has all the power on Emily Owens M.D. No matter how much the first-years interact with Micah, they're all at the mercy of Dr. Bandari's temperament and mind games meant to thin the herd. Bandari may have shown flashes of being a flesh-and-blood human being underneath the steel glare and prickly demeanor, but she's been in Emily's head for much of the run of Emily Owens M.D. and going forward, it looks like her tactics will be getting more intense.
Listed below are the date, episode title, and episode description for an upcoming episode of Emily Owens M.D.
Tuesday, January 22nd – "Emily and…the Teapot"
When Emily (Mamie Gummer), Will (Justin Hartley) and Cassandra (Aja Naomi King) compete against each other to be Dr. Bandari's (Necar Zadegan) research assistant, feelings get hurt when they have to describe each other's flaws. Emily is determined to solve the medical mystery of a young patient whose x-rays reveals a bullet lodged in his lung, but who has no signs of a gunshot wound or scar. Meanwhile, Emily comes to a revelation about her personal life after diagnosing a daredevil with a rare disease that forces him to change his entire life.
The dynamic between Emily, Will, and Cassandra is already strained enough and something like this could lead to a shift in how they interact, depending on how deep they dig to get at each other's flaws and how personal they take what the other two say. Emily and Cassandra, of course, don't like each other nor will they ever, so Will's the wildcard here. He had to toe the line regarding study methods for their in-service exam and he'll have to decide how to approach the competition or if he even wants the position enough to risk either relationship.
Well played, Dr. Bandari. Well played.
Emily Owens M.D. airs Tuesdays at 9:00 on The CW. You can check out additional spoilers here.
Who do you think will get the position as Bandari's research assistant? Will the competition lead to any major changes in either Will's relationship with Cassandra or friendship with Emily? What will be the revelation that Emily comes to thanks to her patient?