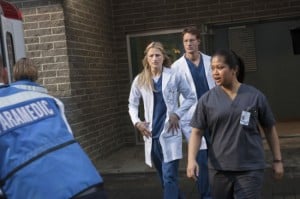 This fall on Emily Owens M.D., Emily Owens has an unintentional run-in…with herself. Years removed from being "Pits", the laughingstock of her high school and your average every day outside, she's now Dr. Emily Owens, a first-year at prestigious Denver Memorial Hospital under the tutelage of the even more prestigious specialist Dr. Gina Bandari. She should be flourishing into adulthood, finally becoming the person that she knew she could be if given the chance, but that all changes when she has a pretty awful first day.
Making things worse is her high school bully Cassandra showing up, having gotten into the same program under the same doctor. Cassandra represents everything that Emily tried to run away from – the shy, gawky, vulnerable teenager that had every day made a living hell by the mean girls. To have her here brings Emily back to that place and that was not a good place to be in, not on the first day of adulthood, not on a pretty pivotal day filled with first impressions and medical emergencies.
Helping things (and hurting them, in a way) is her best friend Will, who Emily went to med school with and at least has a connection to going into a pretty isolating, overwhelming experience. But she has a crush on him, too, and thus can't fully relax around him, even when she needs to following another stressful encounter. And by the looks of things, Cassandra and Will are getting a little friendly by the end of their first day, which is sure to making this final stage of growing up and trying to leave old insecurities behind that much more awkward.
Emily Owens M.D. stars Mamie Gummer, Justin Hartley, Aja Naomi King, Kelly McCreary, Michael Rady, and Necar Zadegan.
Emily Owens M.D. premieres Tuesday, October 16th at 9:00 on The CW following Hart of Dixie. You can check out several different looks at the medical dramedy here and talk about all things Emily Owens M.D. on the TVOvermind discussion forum.
Will you be watching Emily Owens M.D. this season? How long will it take for Emily and Will eventually find their way to one another? Can Cassandra tone down her nastiness one day and become an ally to Emily?
[youtube http://www.youtube.com/watch?v=3ZsqUnigY98]