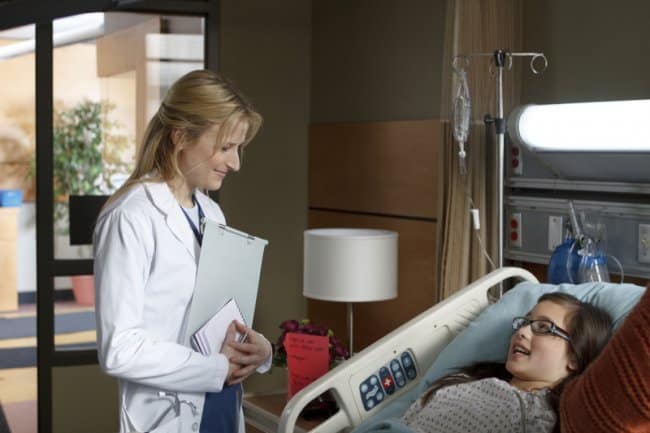 It looks like Dr. Owens gets to scrub in a little early this fall.
The CW has announced that its upcoming medical dramedy Emily Owens M.D. will be hitting the web before it makes its television debut. Beginning on October 1st and extending through October 14th, the pilot episode will be available to stream through a variety of sources, including CWTV.com, Hulu, Youtube, Twitter, Facebook, the CW mobile and tablet apps, and iTunes, where it will be a free download.
The show, which stars Mamie Gummer as the title character, a woman that just graduated from med school hoping that adulthood will be a new beginning, is the latest in a long line of shows to be put up for early streaming. Though a majority of the pilots that have been put online this season have been comedies (The Mindy Project, Ben & Kate, The New Normal), dramas like Last Resort and Revolution have also had their series premieres released before their "official" premiere date. Last season, all three fall CW shows were released early through iTunes.
There's both good and bad things about having an episode available early. While it could potentially eat into the numbers for the pilot's television debut, it increases the chance of word-of-mouth making up for that loss, though there's a possibility that people could forget about the show before another new episode airs. There have been shows that made it to another season after having their pilot early released (Hart of Dixie, Smash), though more often than not, it doesn't create enough hype and ultimately results in disappointing numbers (Awake, GCB).
The official series premiere of Emily Owens M.D. airs Tuesday, October 16th at 9:00 on The CW. You can check out photos from the episode here, as well as a sneak peek here and the TVOvermind Emily Owens M.D. discussion forum here.
Have you watched any of the other pilots that have been made available early this fall? Will you be giving Emily Owens M.D. a try due to its availability? Are there any fall shows that haven't been made available that you'd like to see early?