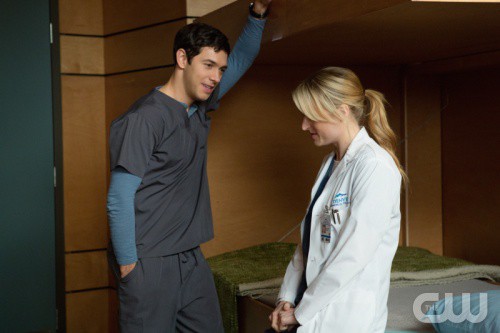 Emily Owens M.D. has always been sure of herself – in the world of academia. Valedictorian of her medical school class and the creator of a renowned study method, Emily's confidence in herself and her decision-making has never wavered in a classroom. There she was on even ground with Cassandra and there she didn't have to worry about the pressures of real life lingering in her consciousness; she could learn, perform, and inch toward the better adulthood that she had in mind.
On the series finale of Emily Owens M.D., though, Emily will have to find the same confidence in her personal life that she had in her academic life in order to make a pretty important choice. Standing before her are two men – one who she's grown closer to over the past five months and one she's known (and had a crush on) for years. One who planted a surprise kiss on her in a fit of declaring his intentions and one who ended up "choosing" her over his then-current girlfriend. For arguably the first time in her love life, Emily has control and while she can handle being in charge at the hospital or in an educational setting, this could be the ultimate test regarding how far she's come as a person in her post-grad life. Can she pass it with flying colors by figuring out what she wants out of life and who will make her happiest?
Elsewhere on Emily Owens M.D., Cassandra takes her break-up with Will surprisingly well, to the point that it distracts Will and makes him misdiagnose a patient, while Micah's sister comes to town and finds out about her mother.
The series finale of Emily Owens M.D. airs Tuesday at 9:00 on The CW.
Who do you think that Emily will choose to be with: Will or Micah? Will Will and Cassandra be able to work together following their break-up? How will Micah's sister impact everything with Emily?
http://www.youtube.com/watch?v=OQhphxO-Jxg
http://www.youtube.com/watch?v=h4P62Oxj2i8