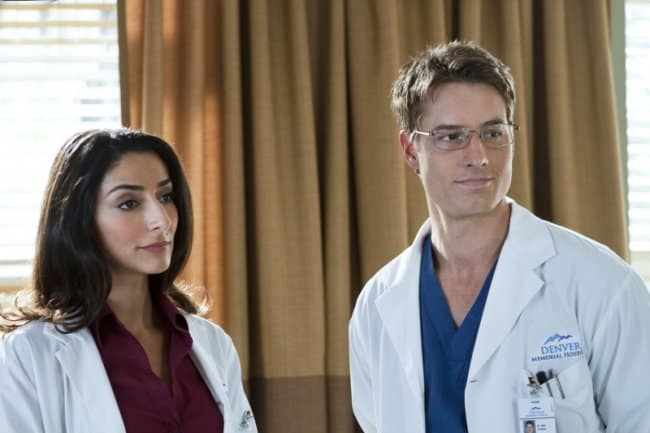 More than two weeks before its official television debut, the full series premiere of The CW's upcoming medical dramedy Emily Owens M.D. is available to stream online. Beginning today and extending through October 14th, you can watch the episode through a variety of sources, including Hulu, Youtube, CWTV.com, Twitter, Facebook, the CW mobile and tablet apps, and iTunes, where it's a free download.
Emily Owens M.D. follows Emily Owens, your classic overachiever who just graduated from medical school. Though she just landed a promising first-year internship at Denver Memorial Hospital, Emily is still haunted by her past as an outsider in high school, which is exacerbated by her former bully Cassandra starting a position at the same hospital. To Emily, adulthood was going to be a fresh start, a way to become the person she's always wanted to be. But now that her time as a lonely bookworm is manifested in front of her in the form of Cassandra, she's going to have to figure out a way to exorcise those demons once and for all.
Emily also has to find a way to reconcile her feelings for Will, her best friend, med school classmate, and co-worker. Having him at Denver Memorial should make the transition to adulthood easier, but socially awkward Emily has a crush on him and can't quite relax around him for now. Will she be able to either get over him or build herself up enough to tell him how she feels?
Emily Owens M.D. stars Mamie Gummer, Justin Hartley, Michael Rady, Aja Naomi King, Kelly McCreary, and Necar Zadegan.
The series premiere of Emily Owens M.D. airs Tuesday, October 16th at 9:00 on The CW. You can check out photos from the pilot here, as well as a sneak peek here and the TVOvermind Emily Owens M.D. discussion forum here.
Will you be watching Emily Owens M.D. this season? Will Emily ever get one up on Cassandra or, better yet, be able to do her job without worrying about her former bully? Are you rooting for Emily and Will to move beyond their friendship and try out a relationship?