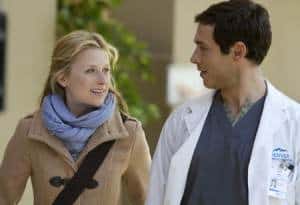 Once you graduate from the highest level of higher education that you plan to go through, there's an expectation that things from here on out will be so much better than before. No more tests, no more annoying cliques, no more having to be needlessly competitive and ranked against your peers – the world of adulthood seems to have so much promise. For Dr. Emily Owens, though, graduating from med-school took her immediately back to the horrors of high school.
On Emily Owens, M.D., The CW's newest medical drama, the cliques and general inadequacy that the title character thought she outgrew have come back to haunt her in her professional life. Once at the top of the hill in her graduate program, Emily is now at the bottom of the totem pole, a lowly intern that has to answer to her demanding attending physician and fend off her high school nemesis Cassandra Kopelson. It's freshman year all over again, basically, with Emily having to try and impress her bosses enough to have some forward career movement while attempting to remain as inconspicuous as possible otherwise.
Emily isn't without a support system, though. Helping her along the way is her best friend from med-school (and crush) Will Collins, along with assists from fellow intern Tyra Granger and resident Micah Ellis. "Pits" may have been miserable in high school, but after years of life experience and time away, now's her time to try and conquer her insecurities, find her own niche in the hospital social hierarchy, and show the world the type of doctor she can be.
Provided she gets out of her own way from time to time, of course.
Emily Owens, M.D. airs Tuesdays this fall alongside the second season of Hart of Dixie. You can check out two additional clips from the upcoming medical drama here.