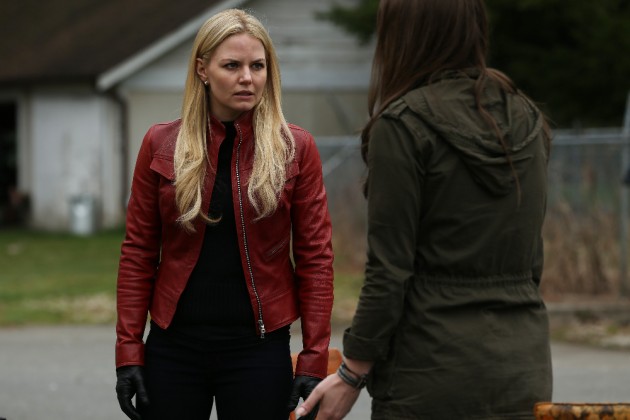 After a couple of less than stellar episodes in the second half of Season 4, Once Upon a Time has bounced back in a big way over the past two weeks, delivering tense scenes and memorable exchanges like the series hasn't done since back in its terrific first season (those were the days, weren't they?). So what's been the cause of this creative resurgence as we near the end of Once's fourth season? It's pretty simple, actually: the show's writers have allowed Emma to become a little bit of a darker character, as Rumpelstiltskin attempts to use her as part of the plan, and that has made every single one of Emma's decisions lately more dynamic and, for the the first time in a what feels like forever, given the series' main character a new storyline that is solely her own.
In recent seasons, Once Upon a Time has struggled to give Emma her own story; instead, she's played more of a supporting role, servicing other major arcs for new heroes or villains that have been brought on to the series. Even in the first half of Season 4 (which I enjoyed quite a bit–I'm a big Frozen fan), which mainly focused on the conflict between Emma, Elsa, and Ingrid, the Snow Queen, she was still not as active a player as she should have been. Her development was pushed aside for more backstory on Ingrid and so that more attention could be paid to Elsa's mission to find Anna.
In these past couple of episodes, however, after Emma discovered the secret that her parents had been hiding from her, Once Upon a Time has refocused on its heroine and provided Jennifer Morrison with some solid material to sink her teeth into. Over the last two weeks, Emma hasn't felt like a bystander on the show anymore but instead an integral part of the story that Once is telling. There's real drama in Emma's choices, and it's not simply born out of the Rumple's manipulations either.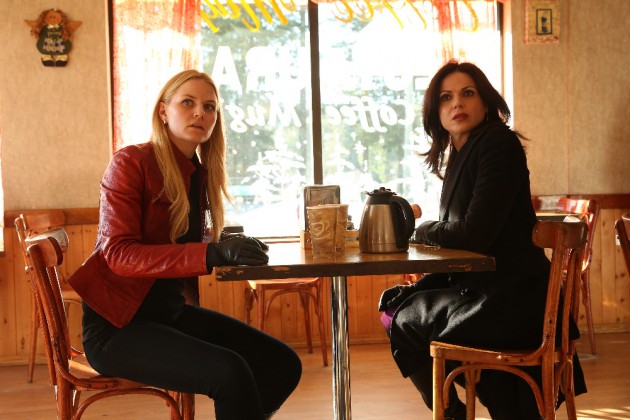 No, perhaps the best part of Once Upon a Time's renewed focused on Emma has been that every action she takes feels like one that's rooted in character and not a dictated decision based on the plot. It's been four years since Emma first arrived in Storybrooke, but as she reminds Regina in the best scene from this past Sunday's episode, "Lily," she comes from the real world, one in which individuals are not simply designated as "heroes" or "villains ," a place where morality is much more gray than the back-and-white, good-versus-evil plots of most fairy-tale stories. It's easy to forget that, even though she has a good heart, Emma has done a lot of bad things in the past and has endured a great deal of pain; while this capacity for darkness that she possesses may have been predestined, it also comes from the many different experiences she has had throughout her life, from growing up as an orphan, to being a thief with Neal, to meeting Henry.
Emma's past has turned her into quite the complex character, something she doesn't get to typically be every week on Once Upon a Time. While Season 1 and some parts of the show's following three seasons (the two-part Season 3 finale with Emma and Hook remains one of the very best episodes Once has ever done) have shown us Emma's depth, it's not common for Once Upon a Time to dig deeply into what she is feeling and thinking; for the most part, the series just has her recite platitudes about good and evil, or mention how good her "super power" for detecting liars is. However, in "Sympathy for the De Vil" and, especially, "Lily," the series has rediscovered what made Emma such a compelling protagonist to begin with by pushing her into more tense and layered situations, ones that do not have simple solutions or answers, such as the phenomenal scene between Emma and Lily in Sunday's episode, where I truly wasn't sure whether or not Emma was going to pull the trigger on her gun and kill her old childhood friend.
By having Emma face the darkness inside of her, Once Upon a Time has been able to explore the character in such richer and more fulfilling ways than it has in a long time, and it's led to a creative resurgence for the series in its most recent episodes, as the show once again features not just one but two fantastic female leads in both Regina and Emma. While I certainly don't want to see Emma turn completely villainous, I am excited to see the different places that Once will take the character in these final hours of Season 4. If the show keeps doing what it has been recently, it should be one thrilling finish.
[Photos via ABC]