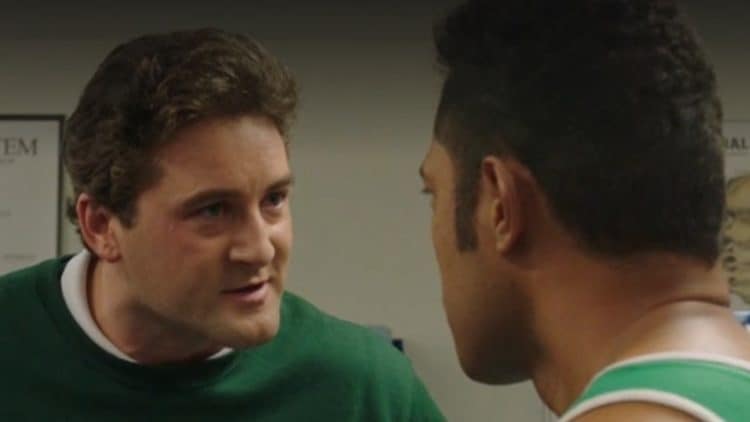 For more than 15 years, Emmett Skilton has been entertaining people on screens all over the world. Born in New Zealand, Emmett made his first on-screen appearance in 2005. Although it took him a while to find his footing, he got his first major break in 2011 when he was cast as Axl Johnson in the TV series The Almighty Johnsons.  His time on the show opened the doors for more opportunities and in 2015 he got another big break with his role in Power Rangers Dino Charge. Emmett's versatility as an actor has earned him the respect of colleagues, critics, and fans. Continue reading for 10 things you didn't know about Emmett Skilton.
1. He Doesn't Back Down From A Challenge
Being a professional actor means constantly having to evolve and be open to new opportunities. Emmett has always been the kind of person who doesn't shy away from trying new things and he isn't afraid to fail in the process. His ability to face a challenge has been very beneficial to him over the years.
2. He Has Theater Experience
Emmett's on screen work has helped him become known all across the world, but the stage is where he got his start. Very early on in his career he was part of an improv group in New Zealand. While TV and movie roles tend to be more lucerative, the stage will always have a special place in Emmett's heart.
3. He Loves Adventure
Emmett's ability to try new things isn't just something exclusive to his acting, it's also part of his personal life as well. He is always up for an adventure and he wants to have as many experiences as possible. Even though he was born and raised in New Zealand, he still loves exploring different parts of the country and enjoying the natural scenery.
4. He's An Award Winner
Being acknowledged with an award — or, in some cases, even a nomination — can be one of the best feelings. Fortunately for Emmett, it's something he's already gotten to experience. He has won several awards over the years and there will likely be even more wins in the future.
5. He Has Behind The Scenes Experience
Acting is what Emmett is best-known for, but he's also no stranger to being on the other side of the camera. He is an experienced writer, director, and producer. Emmett loves being able to tell stories from all angles. He wrote, directed, and produced many episodes of both Millennial Jenny and Auckward Love.
6. He's A Formally Trained Actor
Emmett feel in love with performing during his childhood, and by the time he was a teenager he knew it was something he wanted to take seriously. He studied acting at Toi Whakaari: NZ Drama School where he earned a bachelor's degree. He also took classes at the Stella Adler School of Acting.
7. He's A Vegan
There's always something a little heartwarming about finding out that someone is an animal lover. Although it's unclear if Emmett has any pets, it's clear that he has a soft spot for his furry friends. According to his LinkedIn profile, he spent two years volunteering for the SPCA in New Zealand. His love for animals also inspired home to become a vegan. He told Now to Love, "Vegans get a really bad rap. We are the butt of all jokes on Instagram and Facebook. Most people think vegans carry around signs, insisting everyone must convert. I don't know any like that – just animal activists who are like that for good reason. People say to me, 'You are so picky,' but it's not about the meal. I actually give a crap about where my food comes from."
8. He's In A Relationship
Emmett has been in a relationship with actress Holly Shervey since 2014. Shervey is most well-known for her work in the New Zealand soap opera Shortland Street. The couple has been engaged for the last few years and although they haven't revealed a wedding date of venue, they do know that they plan to have a vegan menu.
9. He Likes Interacting With Fans
Having a good relationship with fans is something that some celebrities forget, but not Emmett. Despite being somewhat low-key compared to other stars, Emmett enjoys getting the chance to connect with his fans. He sometimes even responds to comments from fans via Twitter.
10. He's All About Staying Active
In addition to caring about the kind of food he puts into his body, Emmett also cares about the amount of exercise he does. He is a very active person and he is passionate about staying in shape. That doesn't mean that he just wants to spend all day in the gym, however. He also enjoys other forms of exercise such as hiking.