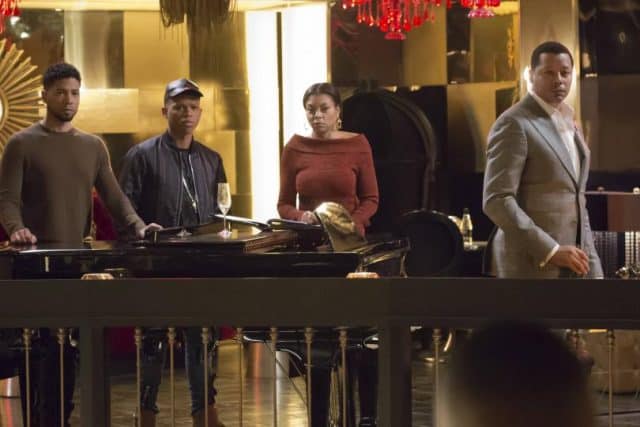 Before we recap this week's Empire, let's all agree we're going to download the latest hit song "Chasing the Sky". It's a powerful song inspired by the game-changing events which happen this week. Cookie works overtime to make last minute preparations for her family's appearance at the American Sound Awards, but Lucious' biggest secret threatens to have explosive emotional and physical consequences for the family.
Cookie and Lucious are having a little trouble sharing the head title. Cookie tries to organize her family's performance and appearance for the upcoming ASA's, but everyone wants their own spotlight. Jamal is especially adamant about not wanting to share the spotlight with Lucious, so he goes to D Major, the creative director for the ASA's. Initially Jamal gets in his face, and then D Major gets right on Jamal's face. D Major hasn't come out, which is his right, but Jamal refuses to go back in the closet. Later Jamal reneges on this statement, claiming he can handle seeing Major in secret.
Rhonda helps Anika prepare for the baby. The two friends are having fun focusing on something joyous for once. An incident with one of Anika's packing boxes causes Rhonda to have a flashback of her fall. She later also flashes back to the type of shoes her attacker was wearing, which are pretty much the same shoes that Anika wears.
Hakeem faces temptation when he and Tiana reunite for a song. He remains loyal to Laura, even when she throws a fit over not being chosen to do the duet with her fiancee. Does anyone else take Laura seriously? How serious can her relationship with Hakeem really be if she is not included in family events?
Cookie's sister Candace shows up to tell Carol that she will no longer be housing her kids. In the early years after Cookie was in prision, Carol helped Lucious stay out of trouble by helping him cover up a few key murders. Carol's old friend Tariq overhears her conversation and later catches up with Carol. He convinces her that he's no longer a cop from their old neighborhood, but what he doesn't tell Carol is that he is actually FBI.
Andre pays a visit to his grandmother. Almost immediately she realizes he's her family. Everyone else's drama comes to a screeching halt as Andre walks into the family rehearsal with his grandmother. Now we've seen Lucious cocky, we've seen Lucious angry, and we've seen Lucious low. What we haven't seen is Lucious scared. Lucious explains how when he finally found his mother again, he and Cookie were on welfare expecting Hakeem. Lucious had neither the means nor the desire to bring his mother back into his life. So he simply allowed the world to think she was dead while secretly locking her in a care facility. Lucious tries to send Leah back to the home, but Andre interferes. Ultimately Leah wants to stay with Lucious.
Lucious has to move very quickly. He dispatches Thirsty to dispatch Harper for revealing his biggest secret. Then he moves his mother into the mansion and orders everyone to watch her like hawks. Cookie tells Lucious not to focus on his mother as much as the prep for the ASAs. Then Cookie says what we've all been thinking-"I'm the one that should be drinking around here". With Mother's Day around the corner, Amen to that!
Lucious has a nice moment with his mother before rehearsal. Lucious goes to rehearse with his family and encourages them all to be honest in the music. To the tune of his mother's medley, Hakeem and Jamal join their father in a beautiful moment. Andre later sums it up best, family isn't perfect, but we always have each other. The strength of the emotion in the room is so powerful that D Major gives the Lyon family a primetime spot in the ASAs lineup.
Lucious is prone to overreaction and understatement, but that's not the case when it comes to his mother. Leah goes on a rant at 3am about how her life became worse when Lucious was born. She does this while force feeding Lucious, brandishing a knife. For once Lucious wasn't flexing his power or trying to hide from his past. He was genuinely afraid for his life, and now for the lives of his family.
How big of a threat is Leah Walker to the Lyons?
Empire Season 2 Episode 16 Review: "The Lyon Who Cried Wolf"
Summary
Leah Walker could be the one to bring down Lucious based off of this week's Empire.