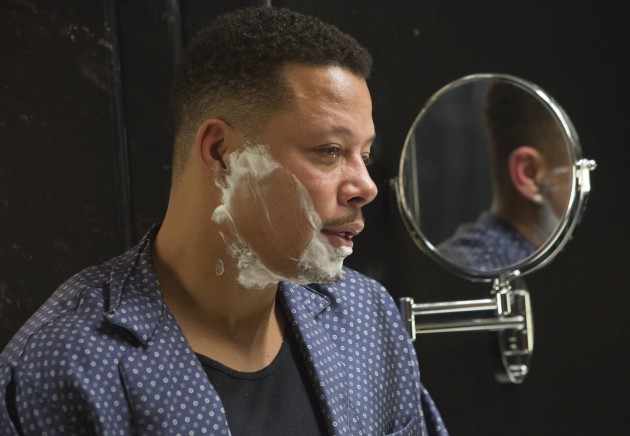 Another Wednesday, another night of drama on Empire. This week the members of the Lyon family take action to prove who they are in their bones. Remarkably, most make progress in not necessarily a negative direction. Should only come more in handy in the challenging weeks to come.
Cookie is more than proving her worth, as she lands not one, but two artists to Empire's repertoire. She first lands Hakeem's "girlfriend" Tiana as her second personal client, a move Tiana actually orchestrates because she appreciates Cookie's natural talent for recognizing the music. Can I just say that I previously thought that Tiana was going to be a tool to be used by those around her, but after seeing her in action this week, I'm impressed. She took the initiative to hire Cookie as her manager, is even starting to build a nice friendship with her, focused on her career over her cheating boyfriend, and even one-upped Lucious. She actually has a bit of Cookie in her, I think! Cookie works closely with Tiana,  and the results are actually amazing. More on that second artist in a minute.
For a dead-man walking, Lucious managed to stay extremely busy, too. After being unable to hide his symptoms from Anika any longer, he finally told her all about his diagnosis. Anika, to her credit, was clearly floored but kept it together because that's what her man needed. If she wasn't so insecure in every other aspect of her life (girls with pearls don't mix well with shootouts), and Lucious didn't have such amazing chemistry with Cookie, I'd actually root for her. Alas, no such luck, seeing as how Lucious does some pretty heavy flirting with Cookie.
Lucious focuses his attention on bringing "the greatest rapper since Tupac," Titan, over to Empire. There's just the little matter of Titan being in jail for a gang war shooting. When a face-to-face with Titan's people, and his boss, who used to be Lucious' boss, doesn't work, it's Cookie to the rescue! Cookie finds Titan's mother, a practicing member of the Nation of Islam, and they bond over their struggles with their children. Cookie relays this information to Lucious, who hesitates because the Nation killed his father, and he can't support that. At the end of the day, though, business is business, so Lucious gets in to see Titan in jail and convinces him to double-cross his boss and come over to Empire (with a little bribery and mutual hatred of Beretti, the boss man, to help). Just like that, the Empire Strikes Back (I thought of that three weeks ago, darn)!
Oh, and there's also the little matter of Andre illegally giving his father an alibi for the night of Bunkie's murder. Through flashbacks we see that this is not the first time that Andre has covered for his father (and that Andre has some early musical talent!), and this is where I have an epiphany about Andre. He's so good about being all about the business that we forget that he is the only Lyon child who actually remembers the humble beginnings. I imagine that Andre actually being able to remember all that transpired before Empire's success took a great toll on him, and set him on the course he's on now.
After taking a very difficult and rewarding stand last week, Jamal is now struggling to adjust to his new reality. He and Michael are now living in a run-down tenement, eating greasy pizza for dinner, and Jamal is just not feeling inspired. Cookie is having none of that, and tells him to get off his butt and start writing. So while the rest of his family stays busy with fancy song launches and corporate meetings, Jamal decides to spend a night walking around his new neighborhood, and becomes inspired by the sounds around him. If only Lucious could open his eyes long enough to see that Jamal is using the same techniques for creating music that Lucious once used, and this is why Jamal is poised to rise to the top.
Hakeem spent this week winning the "Most Spoiled Rich Brat Award." I'm just going to make a list because the commentary portion would have me using some very inappropriate words:
1) Refused to listen to Lucious about putting real work into his album
2) Tried to act like he was above playing the Teen Choice Awards with Tiana
3) Skipping out on dinner with Tiana and Cookie…
4) In order to get caught later in a bathtub with Camilla…
5) Then asked Tiana if she minds if he continues to sleep with Camilla…
6) After showing up late to the Teen Choice soundcheck
7) Having the audacity to tell his mother it's too late for them to have a relationship
And now for this week's segment of Cookie's Quotables:
– "You need to stop rappin' like you're from the streets, 'cause you're not about that life"–to Hakeem, reminding him that he grew up spoiled in a mansion.
-"We don't have time for you to be having some artsy, mental block, brain fart"–to Jamal, telling him to pull himself together.
-"You get him, 'cause I'll kill him"–to Tiana, furious that her son is acting so irresponsible.
-Lucious: "Thank you, baby."
Cookie: "Baby? You might wanna check with Anika about that."
Lucious: "Okay, baby mama."
What do you think of Lucious and Cookie's chemistry? Will Jamal start showing signs of rising to the top? How long can Lucious keep the truth about his disease from his family? Start theorizing!
[Photo via FOX]