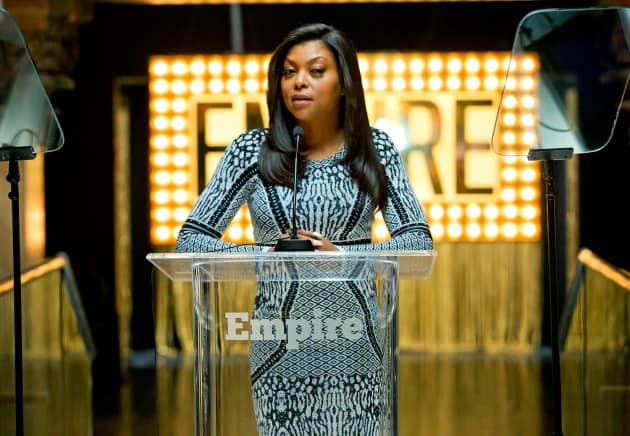 This week on the crazy train that is Empire, the drama that surrounds the music showcase for Empire's IPO launch is nothing compared to the drama that ensues when Lucious can no longer hide his disease.
We'll start with the small stuff, as Hakeem continues to prove he's more tween than adult. His relationship with Camilla is incredibly off balance, and he gets her on the guest list for the showcase provided they don't go public just yet. Camilla covertly introduces herself to Lucious as a potential investor later, but it looks like new security guard Malcolm sees through her.
After last week's shockers, where Jamal first denied having "a special girl" in his life in an interview, then found out he may have a daughter, Jamal seems to be the Lyon whose world is turning upside down. Little does he know his siblings will soon be joining him. Michael has the strength this week to walk away from Jamal because he sees the writing on the wall for their relationship. Then supposed baby mama Olivia ditches her daughter on Empire's doorstep, leaving Jamal feeling emotionally exhausted by the time he talks to Lucious. Yet Lucious doesn't make Jamal feel worse, but instead tries to help his son. Lucious helps Jamal understand that the music business is difficult on relationships, and that if Jamal is indeed a father, he's going to have his family's support behind him.
Cookie is Wonder Woman this week during the showcase. She knocks sense into her squabbling sons, who are finally able to bury the hatchet and bring down the house at the showcase. Cookie then puts all her energy into re-launching Elle Dallas' career comeback. After seeing the genuine progress Cookie has made with Elle, and seeing Lucious' appreciation for it, Anika decides to drug Elle to make Cookie look like a fool. Elle's comeback may have been stalled, but Cookie's has not. When Lucious's ALS symptoms keep him from giving his speech at the showcase, he turns to Cookie. Cookie then wins the crowd with a powerful speech about how she and Lucious dreamed of building this legacy for their children, and it is their children who will be the force to bring Empire into the future. Oh, shout out to Becky who is also everywhere at once this week guiding Lucious through the particulars of the showcase and taking care of Jamal's daughter; girl needs a raise.
Cookie and Lucious's bond can't be broken, try as Anika might. From the minute Lucious collapses from the side effects of the "breakthrough treatment"/poison his private doctor has been giving him, you can see the worry in Cookie's eyes. Even when Lucious is trying to convince the world that he just had food poisoning, and Cookie appears to be going along with it, you can tell she's just biding her time until Lucious feels he can reveal the truth.
Which is exactly what Lucious does once the showcase is over. With Anika out of town and his family gathered together, Lucious finally reveals his disease. Hakeem and Jamal are understandably shaken, but it is Andre who has the most severe reaction. Unable to cope with the truth, Andre starts an argument over business before storming out of his father's house. Rhonda then finds her husband breaking down at home, and even she can't stop herself from joining him crying.
The reality of Lucious' diagnosis leaves the normally verbose Cookie in a state of shock. She can't handle the idea of losing Lucious after all this time, and the passion that has been building between them finally explodes. Unfortunately said passion explodes just in time for Anika to walk in and witness it. This can't end well, but we totally saw this hookup coming right?
This Week's Cookie's Quotables:
-"She's his soon-to-be ex-wife"—to the paramedic regarding Anika and Lucious' relationship status.
-"One night of your little selfish lives. [Your father] fought his way like a dog out of the projects for you two ingrates. Now can you please come together for this one thing your father needs, so we can bring this home for you? You hear me?"—Cookie putting her squabbling sons in line.
-"Some of y'all probably have a few ex-wives, so you know I'm not gonna be standing up here telling you all this mushy stuff about what a fine man my ex is"—Cookie starting off her showcase speech the only way she can.
-"You always did it for me."
– "You never stopped doing it for me"—Cookie and Lucious, enough said.
[Photo via FOX]