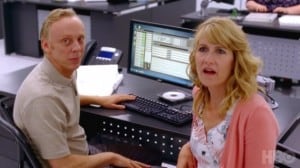 Amy's loneliness was one of the key issues of the first season of Enlightened. Once having the entire office in the palm of her hand, she came home from Open Air a completely different person in an environment that her newfound passion for social justice didn't jive with. Amy lost the ability to relate to people on a human level due to how focused she was on being an agent of change, to the point where she alienated herself from the people she once knew and found herself in the basement with the Cogentiva misfits. However, after finding a kindred spirit in kind Tyler, she found her way and the next season of Enlightened finds Amy Jellicoe tackling the next hurdle in the pursuit of self-fulfillment: love.
The second trailer released for the second season of Enlightened hints that both Amy and Tyler will be trying to keep the fire driving them to take down Abaddonn alive while enjoying new people in their lives. Tyler has caught the eye of business executive Eileen (Molly Shannon), while Amy's new flame is Jeff (Dermot Mulroney), a reporter interested in helping her in her cause. Amy should be elated having made a connection with someone so in-tune with her goals; however, once Levi arrives home from rehab claiming to be a new man, she has to find a way to exorcise 25 years worth of demons.
A part of Amy surely still loves her ex and would have given anything for him to be who she needed him to be, but she's moved on from the old Amy and has embraced the woman that she's become. Although he may have done soul-searching during his time in Hawaii, Levi doesn't fit into her life plan anymore and getting back with him right now would only set her back in her journey. But what if, somewhere down the line, Levi proves that he really has changed?
The second season of Enlightened premieres Sunday, January 13th at 9:30 on HBO, following the season premiere of Girls. You can check out the first trailer for the season here, as well as spoilers for the first three episodes here and a behind the scenes featurette here.
Who do you think Amy will choose to be with: Levi or Jeff? Will Tyler work up the nerve to ask Eileen out? How will their new romantic interests impact Amy and Tyler's quest to bring Abaddonn down?
http://www.youtube.com/watch?v=9bd1NrADVqw