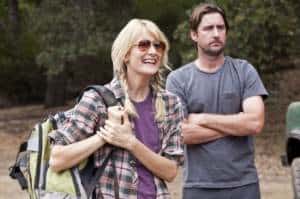 The Facebook page for HBO's critically acclaimed dramedy Enlightened has announced a marathon of the show that will air this Friday. Beginning at 8:00 PM on HBO Zone, you can catch all 10 episodes of Amy Jellicoe's transformation from interoffice affairs to finding a sense of peace within herself to standing up to the company she works for due to environmentally egregious actions.
The second season of Enlightened will be adding two key figures to Amy's fight against Abaddonn. Dermot Mulroney will be joining the show as a reporter that helps Amy's cause as well as a love interest for the character that Laura Dern earned a Golden Globe for portraying. Additionally, Saturday Night Live alum Molly Shannon has signed on to play an executive assistant that fuels Amy's tireless investigation into Abaddonn, her character also said to be a love interest for Tyler.
Below are the air dates, episode names, and episode descriptions for the Enlightened marathon.
FRIDAY, JUNE 8
8:00-8:30 PM ET
'Pilot"
After a very public breakdown, Amy Jellicoe (Laura Dern) quits her job to attend a rehabilitation program in Hawaii. Upon her return, she finds that her co-workers and family are not ready to accept the new Amy.
8:30-9:00 ET
"Now or Never"
Amy's hopes to land a dream job take a hit, as do her attempts to reform her ex-husband (Luke Wilson) and mother (Diane Ladd).
9:00-9:30 ET
"Someone Else's Life"
Amy considers leaving Abaddonn for a more socially responsible job.
9:30-10:00 ET
"The Weekend"
Amy convinces Levi to go on a spontaneous kayaking trip, but Levi's drug habit causes the weekend to go awry.
10:00-10:30 ET
"Not Good Enough Mothers"
Amy confronts her many problems with her mom, while dealing with car trouble and an ill-fated attempt to help a mom who's being deported as an illegal immigrant.
10:30-11:00 ET
"Sandy"
Amy is excited when a woman she met at Open Air arrives for a visit, but the disappointing results of Sandy's (Robin Wright) appearance lead her to reconsider past relationships and future progress.
11:00-11:30 ET
"Lonely Ghosts"
In an attempt to get on her boss Dougie's good side, she decides to set him up on a date with a coworker. Tyler makes his feelings for Amy known.
11:30-12:00 ET
"Comrades Unite!"
Dougie sets the wheels in motion to fire Amy, so she must quickly find a way to convince HR that she is worth saving. Meanwhile Tyler and Amy's friendship is on the rocks after their awkward encounter.
12:00-12:30 AM ET
"Consider Helen"
A day in the life of Helen, as she deals with her frustrated daughter, her irate ex-son-in-law, and her own haunting memories of the past.
12:30-1:00 ET
"Burn It Down" (Season Finale)
After convincing Levi to make a life change, Amy gives a presentation at Abaddonn that management laughs at, but she then uses a computer password to start the process of taking her mean-spirited co-workers down.
Enlightened returns this fall on HBO.