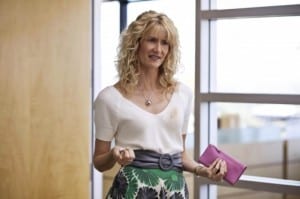 After spending much of the first season of Enlightened trying to get somebody to listen, Amy Jellicoe now has an audience ready to help her take down Abaddonn. Granted, her audience currently consists of Tyler and a reporter (Dermot Mulroney), but that's two more people than she had for much of last season and that's two people who can help her achieve her goal of exposing the environmental crimes committed by the company she works for.
However, Amy has made a nuisance of herself since she came back from rehab and after many an outburst, the people of Abaddonn will be watching her much more closely than they had been. That's why having Tyler on her side is such a positive step forward for Amy, in that he'll be able to take some of the pressure off of her; she won't have to do everything herself anymore, which will help her become much less suspicious and make progress in building her case. The two had an on-and-off friendship for much of season one, but by the time the finale rolled around, they were back on good terms and it's nice to see them joining forces to go against their common enemy.
Maybe being in the basement with Dougie will have its advantages, as they're not as likely to be intercepted by him as they would be with, well, anyone else.
In addition to Mulroney, whose character will reportedly be a potential love interest for Amy, Enlightened will feature Molly Shannon as an Abaddonn corporate executive who inadvertently fuels Amy's investigation.
The second season of Enlightened premieres Sunday, January 13th at 9:30 on HBO. You can check out a behind the scenes look at season two here, as well as an additional teaser here.
What do you think about the trailer for the second season of Enlightened? Will Amy and Tyler be able to gather information about Abaddonn without being detected/fired? Are you looking forward to seeing Amy with a new man in her life and someone who understands her worldview?
http://www.youtube.com/watch?v=vIrvjTefw0g